With region titles on the line, here are Week 9 Augusta-area high school football expert picks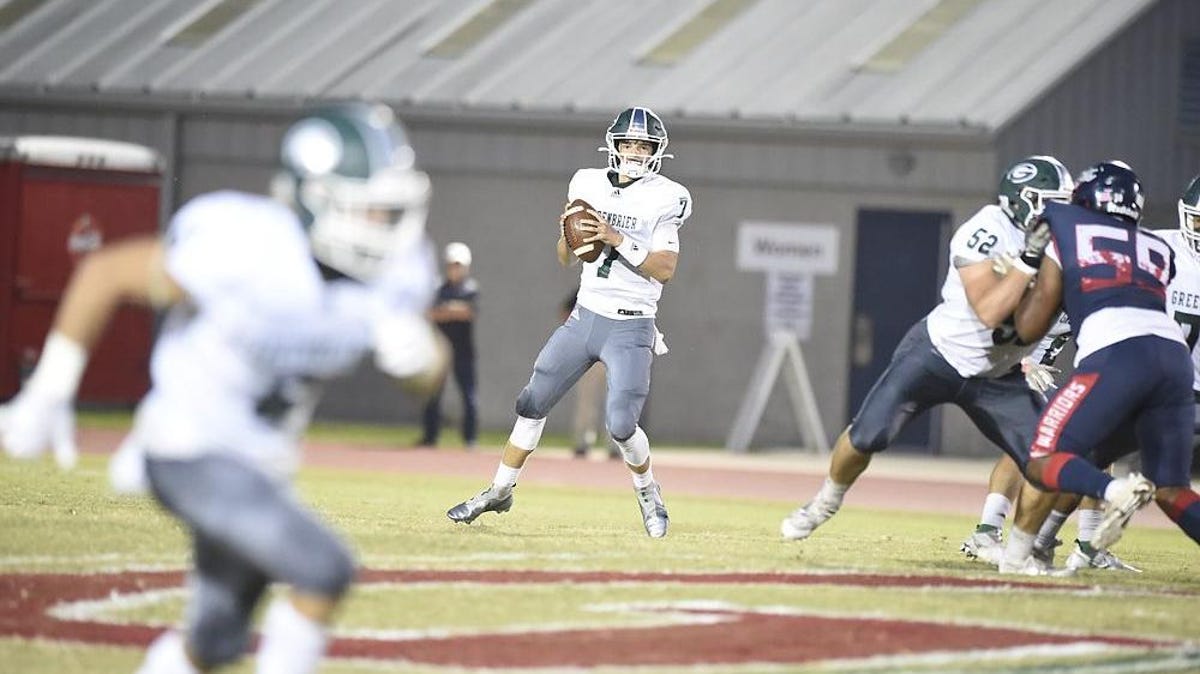 AUGUSTA, Ga. – The Augusta Chronicle sports writers, Will Cheney and Wynston Wilcox, make weekly predictions of upcoming games across the Augusta area.
Here's how they've fared to this point:
Will: 50-20
Wynston: 45-25
Here's how they see things playing out in Week Nine:
Clarke Central at Greenbrier
Wynston: Clarke Central 28, Greenbrier 24
Clarke Central comes in at the leader in Region 8-AAAAA, and Greenbrier poses a great threat to end its undefeated region record. This game will likely be determined by how efficient the Wolfpack are on offense.
Will: Greenbrier 31, Clarke Central 28
Clarke Central enters Friday riding a four-game win streak. Outside of a 35-34 win over Eastside, the Gladiators have allowed just 27 points on the season. It'll be up to Greenbrier's prolific passing attack to find a few holes in a stingy Clarke Central defense if it wants to contend for a region title.
Evans at Lakeside:
Wynston: Evans 42, Lakeside 6
The Knights move one win closer to getting a region title — their second straight.
Will: Evans 31, Lakeside 21
On paper, Evans should win this in a blowout. That said, rivalries are a different animal. Lakeside makes enough plays on offense to keep it close, but the Knights take this one.
Thomson at Burke County
Wynston: Thomson 34, Burke County 30
I have a good feeling about Thomson. But having seen both teams, Burke County is dangerous and rivalries always bring the best out of both teams. It's gonna be Tay Martin versus Charlie Dorsey. Both players are great, but only one team can win.
Will: Thomson 35, Burke County 27
Burke County's two wins are against Cross Creek and Harlem, which may explain the gaudy offensive numbers. Despite the rivalry atmosphere, Thomson takes care of business in the Bear Den.
River Bluff at North Augusta
Wynston: North Augusta 34, River Bluff 14
The Yellow Jackets get one more win under their belt as they prepare for the SCHSL Class AAAA playoffs. Having already won the region, North Augusta aims for its fifth straight win.
Will: North Augusta 28, River Bluff 10
With a region title in hand, North Augusta is tuning up for the SCHSL 4A playoffs in this one. River Bluff is averaging 41 points per game over the last two weeks, so the Yellow Jacket defense will be key in this one as they push toward a No. 1 seed.
Morgan County at Richmond Academy
Wynston: Richmond Academy 34, Morgan County 28
ARC has had the toughest road to a region title as anybody, having already knocked off Thomson and with Morgan County and Burke County the remaining two foes. ARC gets the victory Friday, setting up a potential game of the year atmosphere in Week 10 for the much anticipated region title.
Will: Richmond Academy 37, Morgan County 31
It's home cooking for Richmond Academy this week as the Musketeers look to lock up a region title. Morgan County owns convincing wins over Lakeside and Hephzibah, so the Bulldogs won't go quietly into the night. ARC will use its running game to control the clock in the late quarters in this one.
Hephzibah at Cross Creek
Wynston: Hephzibah 45, Cross Creek 12
The Rebels get their first region win of the season. Quarterback Marshall Chambers once again flashed his dual threat ability last week against Richmond Academy, and he should be on point again against the Razorbacks.
Will: Hephzibah 38, Cross Creek 8
Hephzibah went toe-to-toe with Richmond Academy in arguably its best performance of the season a week ago. The Rebels will continue to cruise this week against the struggling Razorbacks.
Alcovy at Grovetown
Wynston: Grovetown 18, Alcovy 12
Alcovy, still in search of its first win, has had a tough season. I don't see it happening against Grovetown.
Will: Alcovy 14, Grovetown 10
Frankly, neither team is lighting up the scoreboard. Grovetown hasn't shown enough playmaking ability on the offensive side of the football to garner any confidence in the Warriors (who average just seven points per game). Alcovy squeaks by for its first win of the year.
Piedmont Academy at Augusta Prep
Wynston: Piedmont Academy 35, Augusta Prep 14
The Cavaliers are young and promising. They started strong, but have since tapered off to a 3-4 record. They lose this one to a strong Piedmont Academy team, but it's another game for a young team to learn and get better ahead of what could be a strong showing next season.
Will: Piedmond Academy 41, Augusta Prep 24
After a hot start, Augusta Prep has cooled off as the season has gone on. This isn't a huge surprise, considering the Cavaliers' age and roster size. While they have a lot to build on going forward, it won't be any easier against 5-1 Piedmont Academy.
Westside at Laney
Wynston: Westside 22, Laney 14
The Patriots build off their homecoming win against Butler to defeat the Wildcats and continue contending for a Region 4-AA title.
Will: Westside 18, Laney 6
Westside's defense is keeping the Patriots in games up to this point, allowing just 11.5 points per game (including 37 against Putnam County). While Laney is on the uptick, the Wildcats fall in this one.
Aquinas at Savannah Country Day
Wynston: Aquinas 37, Savannah County Day 13
The Fightin' Irish come off the bye week refreshed and three wins away from a region title. They should have no problems getting the first one on Friday night.
Will: Aquinas 42, Savannah Country Day 24
Coming off a bye, Aquinas takes its undefeated record to Savannah. Savannah Country Day doesn't have the firepower to match up with the Fightin' Irish, who look to make their presence known in their new region.