Ree Drummond, who recently celebrated 25 years with husband Ladd, didn't plan for a life on a ranch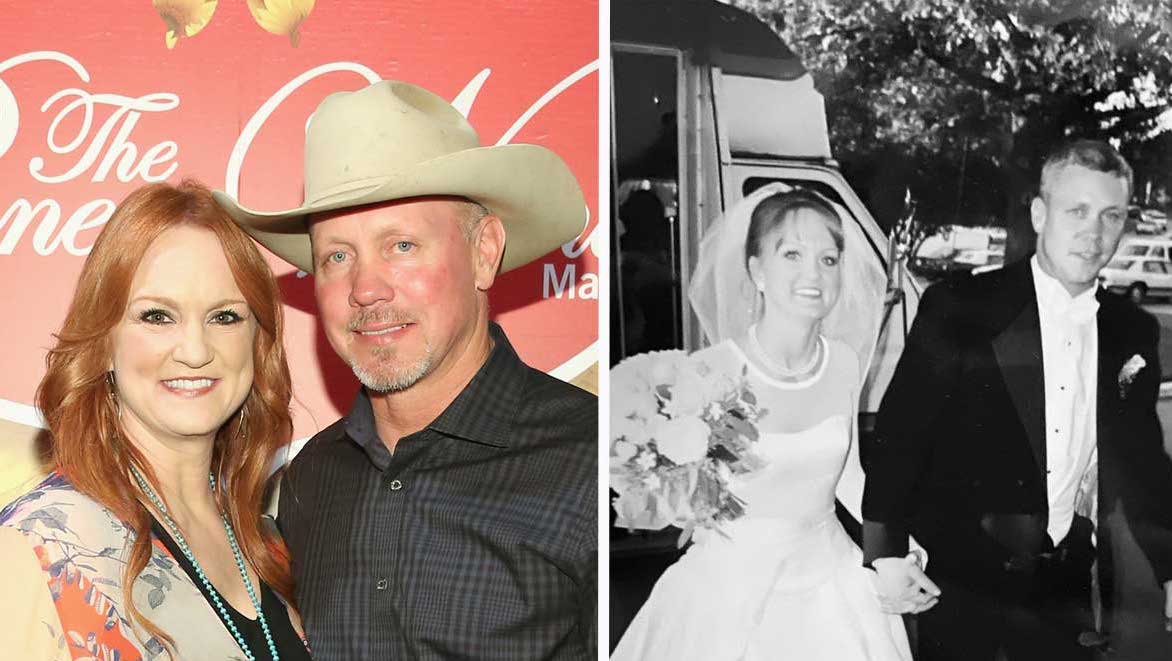 Food Network star Ree Drummond recently celebrated 25 years of marriage to rancher Ladd Drummond.
The Pioneer Woman documents her life living on a ranch in Oklahoma, raising her five kids and sharing recipes; it's as though she was born to live the life of a country girl.
The 52-year-old blogger and TV presenter left Bartlesville, Oklahoma in 1987 and headed for college in Los Angeles with plans to immerse herself in city life and no plans to return to Oklahoma.
But meeting her husband changed all that and her life ended up taking a different path into a world she never envisioned – on a ranch in Pawhuska, Oklahoma.
When Ree first met her husband in an Oklahoma bar, she was planning a move to Chicago. The mysterious man wearing a cowboy hat and sipping beer caught Ree's attention and the two ended up talking for two hours before she gave him her number.
She expected him to call her the next day but heard nothing. Months passed without hearing from him so Ree told herself it wasn't meant to be as she was going to Chicago to start a new life.
Months later she returned to Oklahoma to attend her brother's wedding and even ended up going with her brother's best friend Walrus. But the next day when her phone rang she thought it was Walrus but was surprised to hear the voice of her mysterious cowboy Ladd.
Despite it being four months since the two met, she agreed to go to dinner with him and the evening ended with an unexpected kiss – a kiss that would change her path in life dramatically.
As she revealed in her book "The Pioneer Woman: Black Heels to Tractor Wheels—a Love Story," by the time the kiss was over, her life as she had always imagined was over.
The two got married in an Episcopal church ceremony on September 21, 1996 and Ree joined her husband on his ranch – a far cry from the city life she had originally planned.
They have five children – Alex, Paige, Bryce, Jamar, and Todd. Their foster son Jamar is a student and football player at the University of Central Oklahoma.
Ree refers to her husband as 'Marlboro Man' – the 53-year-old was born in Nebraska and is a fourth-generation rancher of the 'Drummond Ranch' in Osage County, Oklahoma – one of the largest ranch estates in the U.S.
Ree settled into life on the ranch, but she never imagined she would end up in Oklahoma, "Based on my brief time at home, I knew that an urban environment was where I belonged. I missed the conveniences, the coffee shops, the take-out galore …," she said. "I missed the anonymity of living in a city — the ability to run to the market without running into my third-grade teacher."
Living on the ranch in Pawhuska, Oklahoma, certainly has its ups and downs including having to deal with tornadoes and the regular occurrences of country life.
"In the country, there are just certain realities one has to face. Flat tires, for one. Water and electrical outages, for another. Manure—well, that's obvious. It's everywhere. The list goes on and on," she wrote.
But despite the hurdles the TV star has definitely made the most of it and now with a successful blog that led to a regular slot on Food Network and a merchandise line the Pioneer Woman has become a household name in the U.S.