Olympic athlete is terrified to go back home after complaining against her team's officials: "I might be jailed"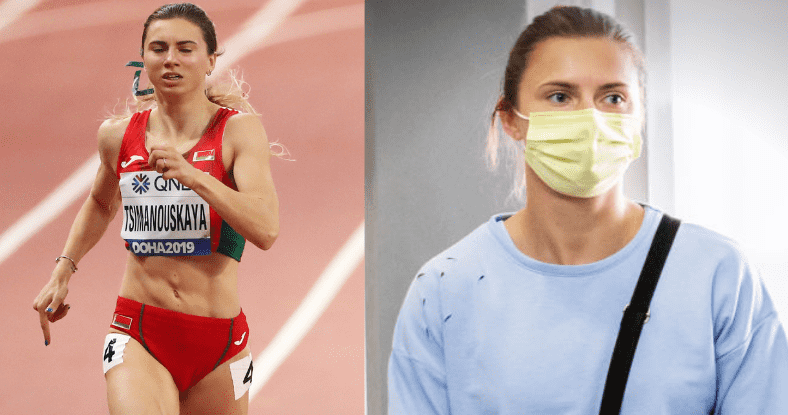 After traveling to Tokyo to represent her country at the Olympic Games, Krystsina Tsimanouskaya is afraid to go back home to Belarus following her public dispute with her national team's officials. On Sunday, she was taken to the airport in Tokyo against her wishes, but she refused to get on the flight that was supposed to take her back home.
Earlier, the 24-year-old sprinter had criticized her coaches as well as her country's national committee for registering her for the 4×400-meter relay. She hadn't trained for it, but in the last minute, she was told that she would have to replace another team member who did not qualify for the event because they did not take enough antidoping tests.
"Some of our girls did not fly here to compete in the 4x400m relay because they didn't have enough doping tests," Tsimanouskaya told Reuters. "And the coach added me to the relay without my knowledge. I spoke about this publicly. The head coach came over to me and said there had been an order from above to remove me." Timanovskaya was later pulled out of the 200 meters race at the Tokyo Olympics and said representatives of the Belarus national team tried to send her back home against her will for criticizing them.
Officials asked her to "pack her belongings as a decision had been made for her to return to Minsk," said Anatol Kotau, of the Belarus Sports Solidarity Foundation, which represents athletes repressed by Belarusian authorities.
While Timanovskaya was at the airport, she refused to get on the flight and spoke to a Japanese police officer about applying for political asylum. She also spoke to a Belarusian sports news site, Tribuna, and said she was terrified to go home because she might be in danger for speaking against her national team's officials.
"I am afraid that I might be jailed in Belarus," she said. "I am not afraid of being fired or kicked out of the national team. I'm concerned about my safety. And I think that at the moment it is not safe for me in Belarus. I didn't do anything, but they deprived me of the right to participate in the 200 meter race and wanted to send me home." The day after she refused to get on the flight, Timanovskaya was seen at the Polish Embassy in Tokyo as she was received a humanitarian visa and was offered asylum in Poland.
On Wednesday, August 4, Tsimanouskaya took refuse in Poland after safely landing in Warsaw. Waiting for her arrival at the airport were some Belarusians, holding signs to show their support for her. One 31-year-old student, Eugene Dudkin, said: "We are here to support our compatriot, who told the truth about what is happening in Belarusian sport." Now that Timanovskaya is safe, the Polish deputy foreign minister Marcin Przydacz told Reuters, "She needs to rest. She is tired but happy to be in Poland. She will stay in Poland in a safe place."