Babies switched at birth were raised as sisters after parents found out hospital mix-up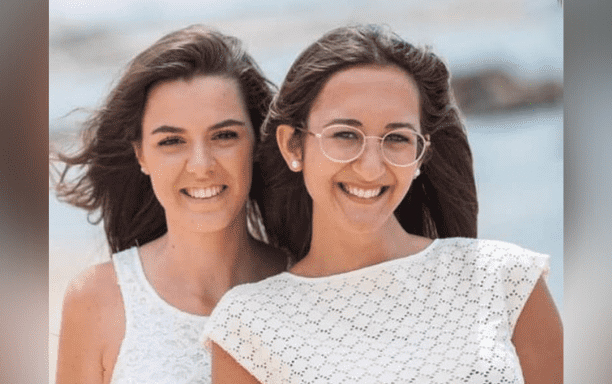 Caterina Alagna and Melissa Fodera were born 15 minutes apart in the very same hospital in Mazara del Vallo in Sicily on December 31, 1998. Now, 23 years later, the two of them are like inseparable twins that have eight grandparents and four parents. On the day of their birth, their biological mothers saw the nurses bring in their babies in clothes that they could not recognize. When the mothers pointed this out to the nurses, who were in the middle of ringing in the New Year, they were assured that only the babies' outfits had been mixed up and that they had nothing to worry about.
So baby Melissa went home with Marinella Alagna while baby Caterina went home with Gisella Fodera. It then took everybody three years to discover that it wasn't just the clothes that were switched after Caterina and Melissa's births.
When Melissa was being picked up from nursery school at the age of 3, her mother Marinella's attention was caught by one of the other children, Caterina, who was also going to the same school. Marinella couldn't help but notice how similar Caterina looked to her two other daughters.
Things seemed even more strange when she recognized Caterina's mother, Gisella, at the nursery school.
"I recognised Caterina's mother, Gisella Fodera, from the maternity ward and got suspicious—15 days later we did DNA tests and my mind went blank," Marinella told The Times, as quoted the Daily Mail.
It became crystal clear that Caterina and Melissa were switched at birth after a hospital mix-up.
"It was too surreal, too impossible," Marinella added.
After three years of raising somebody else's daughter as their own, both the biological mothers were hesitant about switching them right away. So instead of swapping them, they thought it was best for everyone to raise the girls together. There was even a period of time where both families were living together under the same roof.
Experts had suggested having the children spend around six months apart to adjust to their new lives. But the two biological mothers realized it was too hard for them to do that.
"We two mothers cried on the phone to each other each day and after three months decided we couldn't resist, and we met and promised never to separate," recalled Marinella. "After that I saw Melissa every day—how could I not? I breastfed her, I taught her her first words. We had to share everything."
Since then, the families were together for every birthday and every big occasion. And the girls were told about being switched at birth when they were 8 years old. While growing up, Caterina and Melissa were almost like twins and were in the same class until college.
"We are a phenomenon. We have eight grandparents, two fathers, and two mothers," Caterina added, as quoted by The Sun. "Growing up I had Marinella as a second mother, as she still is," Melissa added.
Her biological mother, Gisella, admitted: "At first, loving Melissa, my biological daughter, felt like betraying the daughter I had raised, but today Melissa and I truly feel like mother and daughter."
The story of the two Sicilian daughters being switched at birth was turned into a book, Sisters Forever, authored by Mauro Caporiccio.
Caterina and Melissa are also sharing their story in a documentary based on the book.
"Today they are more like twins than sisters," Caporiccio said, "and there is a kind of love which binds the two families."
Two women swapped at birth tell how their mothers raised them as SISTERS in the same house https://t.co/20HMS5wLAs

— Daily Mail Online (@MailOnline) September 16, 2021