LSU vs. Georgia live updates, stats, play by play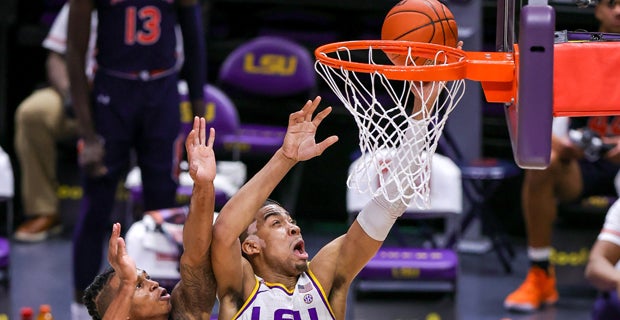 GEORGIA – The LSU Tigers are facing the Georgia Bulldogs in Athens looking to pick up another key Southeastern Conference win and continue to build on the NCAA Tournament resume for Will Wade's squad. Follow below for live updates as the Tigers look to beat the Bulldogs Tuesday evening on the SEC Network.
1st Half: LSU fell behind 4-0 early on to the Bulldogs before ripping off a 7-0 run highlighted by baskets from Trendon Watford and Javonte Smart. From there, it was Georgia that went on a run of its own with 3-pointers from Justin Kier and Tye Fagan to make it 14-7 with under 13 minutes to play in the half.
Cam Thomas responded with a pair of baskets to make it a 14-11 deficit for LSU before Sahvir Wheeler answered with a layup. Darius Days got on the scoresheet with a basket to make it 16-13 with under 12 to play. K.D. Johnson made two free throws before Eric Gaines answered with one of his own, bringing the Bulldogs lead to 18-14 with 10:16 to play.
Josh LeBlanc Sr. made a free throw before Andrew Garcia made a layup to extend the lead to 20-15. That's when Thomas hit a big 3 for LSU to close it to 20-18. Toumani Camara responded with a layup off a miss to give the Bulldogs a 4-point lead.
After a missed Georgia free throw, Smart hit a 3 that closed the gap to just one point. Camara got fouled and made both free throws though. Mwani Wilkinson threw down a dunk for the Tigers then Fagan made back-to-back baskets for a 28-23 Bulldogs lead. After a Thomas free throw, Georgia reeled off 12 straight points to build a 40-24 lead.
Smart made a 3-pointer to stop the bleeding with 43 seconds to play. Johnson and Thomas traded a 3-pointer and a jumper, respectively. Camara made a layup at the buzzer to make it a 45-29 Bulldogs halftime lead.
The second half started with a Watford layup, but UGA hit two quick baskets to make it a 49-31 lead. Watford made his second straight basket then Fagan hit a 3. Smart though was fouled on a 3 and made all of his free throws to make it 52-36, Georgia.
After a Thomas jumper, PJ Horne made a 3 then Watford made a basket, which was answered by Fagan before Aundre Hyatt got into the action with a 3-pointer. Once Wheeler made a layup, it was 59-43, Georgia with 14:49 to play. Johnson made a layup then LSU missed to make it 61-43 with 14:11 to play.
From there, things struggled to get much better for the Tigers despite closing the gap to 12 with 4:59 to play with a 3-point play from Smart. Horne opened it back up to a 15-point lead for Georgia. Georgia closed out the game to grab a 91-78 win over LSU.