Georgia holds key to U.S. Senate as polls open Tuesday after record-setting advanced vote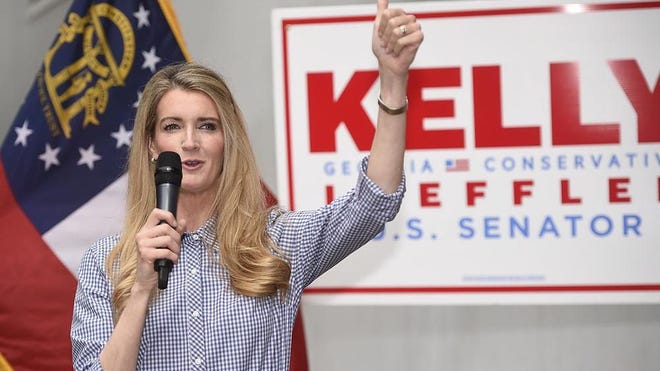 AUGUSTA, Ga. – With election day rapidly approaching, Sen. Kelly Loeffler makes a final campaign stop in Augusta at Augusta Regional Airport Monday.
Republican Sen. Loeffler remains hot on the campaign trail with one final visit in Augusta before Tuesday's U.S. Senate Runoff.
Sen. Loeffler is facing off against Democratic challenger Rev. Raphael Warnock in a pair of runoff elections that could shift the power of the senate to the democratic side. Her fellow Senator David Perdue is also participating in a runoff against Jon Ossoff.
Loeffler spent part of her tour in Augusta, flying into Augusta Regional Airport to meet with supporters, and to encourage constituents to get to the polls Tuesday if they haven't voted yet.
"On our side of the ballot David and I are fighting for the American dream. You know, the Democrats would usher in socialism. We know that because Chuck Schumer told us. Now we take Georgia, then we change America. Well, what does that mean? It means changing America into a government-centered society. When government takes control over your paycheck, your health care, your decisions. It takes away the freedoms that we enjoy in this country the way of life right here in Georgia," Loeffler said.
Making an appearance with her, former Georgia Governor and current Agriculture Secretary Sonny Perdue. "Georgians don't believe in this radical left agenda."
"Raphael Warnock said he hasn't thought about whether he would pack the court or not. We know that he would. That would overturn our rule of law, our constitution and so we have to make sure we have people in Washington being your voice. That's David Perdue and I. We are going to be your voice if you will be our voice January 5, that's tomorrow," Loeffler said.
On an earlier stop in Atlanta Loeffler did not offer her opinion of the phone call between President Donald Trump and Georgia Secretary of State Brad Raffensperger. Instead, she said her sole focus is on Tuesday's election.
"Look my sole focus is getting Georgians out to vote on January 5 because we are the firewall to stopping socialism. We have to hold the line here in Georgia," Loeffler said.
Senator David Perdue, currently in quarantine, called during the media conference to thank the community for its efforts, and to encourage people to get out and vote. "It's not a slogan when we say this. You know, if we win Georgia we save America. That's really what's on the line here so thank you guys for coming out."
Sen. Loeffler said she's dedicated to making sure every legal vote counts. She also said volunteers will be at the polls Tuesday to make sure the process is done correctly.  "I just want to thank you for coming. Thank you all for being involved. Let's get the vote out. God bless you. God bless Georgia."
President Donald Trump and President-elect Joe Biden also campaigned in Georgia Monday for their party's candidates. Polls open tomorrow at 7 a.m. and close at 7 p.m.