Georgia Grapples With Low COVID Shot Rate, Overwhelming Demand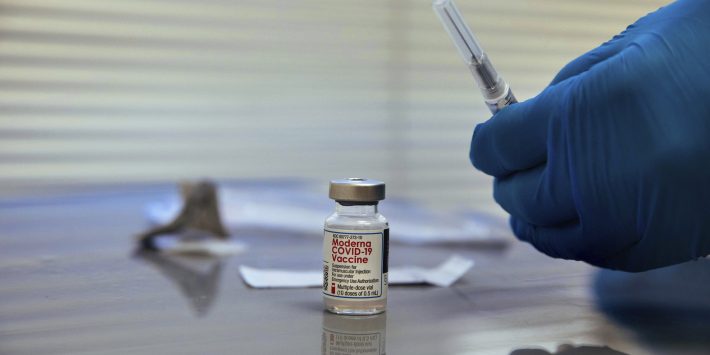 GEORGIA – Georgia's worst-in-the-nation status for COVID vaccination rate is a glaring hole in the state's fight against the disease.
Some hospital officials are pointing to trouble inputting data into the state immunization registry about shots that have been given. Gov. Brian Kemp has talked about "a significant underreporting'' of how many vaccinations have been carried out.
The problem is certainly not a lack of demand for vaccinations. In fact, the opposite is true.
County health departments are being overwhelmed by requests for the shots – so much so that Monday's official launch of vaccine availability for seniors, police, firefighters and first responders hit immediate snags.
A CDC website Monday showed Georgia with a vaccination rate for the initial dose of Pfizer or Moderna vaccine at 1,346 per 100,000 residents, last among the states.
Hospital officials tell GHN that there are some problems working with the Georgia Registry of Immunization Transactions and Services, better known as GRITS, when it comes to reporting vaccinations.
Kemp, expressing dismay Friday about the slow vaccine rollout in the state, said the reporting system used by Georgia "is more workload, especially for our medical facilities and our hospitals.''
The state's Department of Public Health (DPH) told GHN on Monday that the agency "is reaching out to health care providers to remind them that the vaccine provider agreement requires them to report within 24 hours of administering vaccine,'' i.e., giving a vaccination.
Georgia law requires medical providers to report other immunizations (non-COVID) within 30 days after they have been done, said Public Health spokeswoman Nancy Nydam. "This may be a point of confusion for some providers who don't realize that the COVID-19 vaccine must be reported within 24 hours.''
Public Health said it's reviewing the vaccination reporting system to make sure all data entered is being captured. "Some vaccine providers are new to the reporting system and have had issues navigating it,'' Nydam said. "DPH has contacted many providers to make sure they have the training they need to properly report vaccine administration.''
She also noted that the CDC reports data on a 72-hour delay basis.
Hospital urge public understanding
Meanwhile, Monday's expanded eligibility has led to widespread consumer frustration and a call by health officials for patience.
The Coastal Health District announced Monday that it has temporarily stopped taking COVID-19 vaccination appointments due to an "overwhelming response" from people in the expanded Phase 1A category. That's people over 65, firefighters, law enforcement officers and first responders.
In less than a week of taking appointments, health departments in the eight-county district, which includes Glynn, Camden, McIntosh, Liberty, Long, Bryan, Chatham and Effingham counties, have received enough requests to keep them busy through February and into March, according to a press release from the health district.
A Newnan drive-through vaccination event was changed to appointment-only because of concerns "for the well-being of people intending to camp out overnight to be among the first in line,'' a Public Health spokeswoman said.
The sky-high demand for the vaccine led to long lines at drive-though vaccination clinics in DeKalb County, 11Alive reported.
Local department of public health websites are booking vaccination appointments almost immediately after they're posted, and some sites, such as Cobb County's, have reportedly crashed because of so many online visitors.
Michael Hokanson with the North Central Health District, which covers 13 counties in Middle Georgia including Bibb, Houston and Peach, said the Public Health district received more than 50,000 calls in two hours Monday morning, the Macon Telegraph reported.
"We know everyone wants the vaccine, but we plead with you for your patience," Eric Nickens, spokesperson for the DeKalb County of Public Health, told 11Alive. "There's only so much vaccine to go around right now. It's still in limited supply, and we're only going to open up more appointments once we determine we have more vaccine in place to be able to give shots."
In hard-hit Gainesville, where the hospital has been inundated with COVID patients, appointments for shots were booked solid around an hour after Northeast Georgia Health System's Saturday announcement about COVID-19 vaccination clinics. The system is asking the community for patience as it works to roll out the vaccine as quickly as possible.
Piedmont Healthcare issued a statement that said as a result of limited vaccine supply, "we are contacting patients to schedule appointments."
"All of this week's appointments are full and Piedmont is not conducting walk-in clinics,'' the 11-hospital Atlanta-based system said. "As additional supply becomes available, we will continue to contact patients to schedule additional appointments for vaccinations."
DPH launched a COVID vaccine locator Sunday on the DPH website at https://dph.georgia.gov. The tool allows users to search by county for a vaccine provider in their community, and provides location and contact information for the provider. It's not a scheduling tool, the agency said.
Red tape and PIN numbers
Some medical providers are still waiting to get vaccine shipments.
Some community health centers are still having trouble getting the vaccine, according to the Georgia Primary Care Association.
While some centers are getting their second shipment of vaccines, there are others – especially in rural South Georgia — which "have not received their first order,'' said Duane Kavka, executive director of the association, which represents federally qualified health centers.
"The state seems to have made the process more difficult than it needs to be," Kavka said.
Several centers have properly registered to provide vaccines and have received a confirming e-mail but are still waiting to be given a PIN number, which is the key to being able to order doses, he said.
"It seems the ones that have not received any vaccine had an initial delay in getting their PIN even though they had confirming e-mails that they were approved,'' Kavka said.