Ga. leaders, health department advocate vaccines for Black residents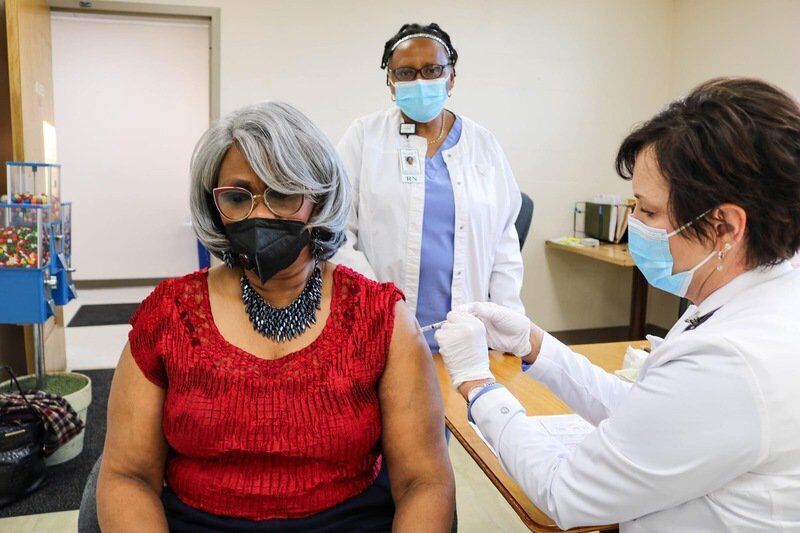 GEORGIA– Vivian Miller-Cody, a Valdosta city councilwoman who recently received the Pfizer vaccine, wants to be an example to others.
Desiring to promote the COVID-19 vaccine within the Black and brown community, Cody received her first dose Jan. 27 and the second dose Feb. 17 at South Georgia Medical Center.
"The process was great," she said. "I reached out to SGMC to discuss the importance to promote the vaccine. The first week you will receive a text message each day asking how you are doing. After completion of your final dose, you will receive checks-ins three, six and 12 months (afterwards)."
She said she has had no reaction to the vaccine so far.
Cody, who is the District 11 president for the Georgia Municipal Association, said she attended multiple virtual GMA conferences where Dr. Anthony Fauci, director of the National Institute of Allergy and Infectious Diseases, expressed the number of Black and brown residents who've gotten the vaccine is low.
"He also showed how an African American female was a part of the invention of the vaccine," Cody said.
Though local public health officials don't have a specific number for how many Black residents have gotten the vaccine in Lowndes County, they say the amount nationwide is low.
Kristin Patten is the public information officer and risk communicator for the South Health District.
Throughout February, Black History Month, South Health District has been an advocate and has worked to "increase confidence and trust around the COVID-19 vaccine," Patten said.
"We felt that the best way to instill that confidence was to make sure the messages we share are representative of the communities we serve," she said. "We know that within the African American community there can be a lot of distrust with vaccinations, and so, we want to do everything in our power to help alleviate concerns and instill confidence. We felt that providing a platform for individuals within the African American community to share their story is one small way we can help provide that education and confidence."
The district formed a campaign to fulfill its goal, an effort that included connecting with influential Black people who've received their vaccine in the district's 10-county service area. Patten said people were asked to share why they decided to get the COVID- 19 vaccine.
Relating to vaccine apprehension among Black residents, Patten referenced the historical "Tuskegee Study of Untreated Syphilis in the Negro Male."
During the syphilis study, hundreds of men were told they would be treated for "bad blood" when "in truth, they did not receive the proper treatment needed to cure their illness," according to an article from the Centers for Disease Control and Prevention.
"Whether it is through specific events such as the Tuskegee Study or overall medical mistreatment throughout the era of American slavery, there are numerous historical instances that have contributed to this apprehension," Patten said. "We know that it is our responsibility within public health to combat these historical failures and create a safe and inclusive environment for all of our residents. We feel that this campaign is one small step in the right direction."
Cody urges people to conduct research and pushes community leaders to promote the COVID-19 vaccine.
Cody said she believes the virus can be curtailed if guidelines are followed.
"I also know that by taking the vaccine one must still remain precautious of wearing the mask, (remaining the) six-feet distance and washing hands," she said.
Cody said she does not regret getting the COVID-19 vaccine.
Patten said the response from leaders and health care workers has been significant in relation to South Health's campaign. The district wants to carry the campaign past February, she said.
Vaccines are available for people who are within Tier 1A+, which includes health care workers, first responders, long-term facility residents and staff, people 65 years old and older and primary caregivers for people who are age 65 and older.