Darlington alumnus Billy Morris, CEO of Morris Communications, among 10 honored as part of the ninth annual Governor's Awards for the Arts and Humanities.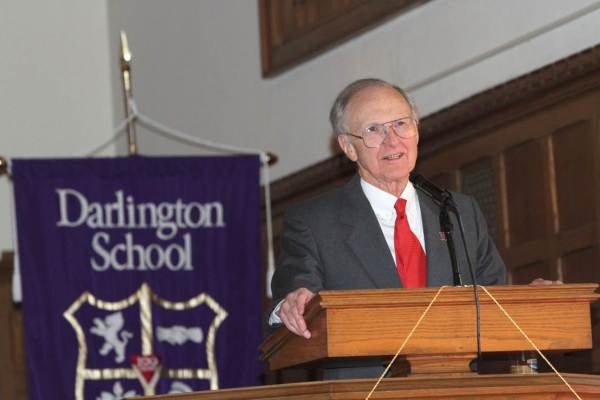 AUGUSTA, Ga. – Darlington alumnus Billy Morris ('52), CEO of Morris Communications in Augusta is one of 10 individuals and organizations in Georgia to receive one of the ninth annual Governor's Awards for the Arts and Humanities, presented by Gov. Brian Kemp and First Lady Marty Kemp in partnership with the Georgia Council for the Arts and Georgia Humanities.
As a Darlington student, Morris was a member of the staff of The Darlingtonian student newspaper. He now leads Morris Communications, a diversified, mid-sized media company operating across the United States and abroad. The company owns and operates newspapers, radio stations, visitor publications, magazines and book publishing businesses, event marketing, and online services.
"Billy Morris is the definition of a servant leader," said Darlington Head of School Brent Bell. "I love what he shares about seeing a problem and working to solve it. We hope all of our students will see the world in that way."
Morris is also founder and chairman of the Board of the Morris Museum of Art, which he established in memory of his parents. It is the first museum to focus on the art and culture of the American South. In memory of his father, he also established the Morris Eminent Scholar's Chair in Art at Augusta State University and the William S. Morris Chair of Newspaper Strategy and Management at the University of Georgia. In memory of his mother, he established the Florence Hill Morris Scholarship at Columbia Theological Seminary.
"While I am honored to receive this award, I commend Gov. Kemp and the Georgia Council for the Arts for supporting their work in supporting arts in our state," said Morris. "Augusta has been my family's home for seven generations. When I was young, Columbia and Atlanta had art museums. That was something my hometown lacked. I thought, even as a youngster, that this was a problem and that someday perhaps I could fix it. Eventually that day came when we realized we had the means to make a contribution to our community — something that would benefit all. That's why years ago my wife, Sissie, and I founded the Morris Museum of Art."
Morris is a graduate of the University of Georgia with a degree in journalism. He has served as chairman and member of the Board of Directors of the Newspaper Association of America, and is a former director of The Associated Press and the Advertising Council Inc. He received the first Bottom Line Award from the Media Management Club of the University of Georgia for his contributions to publications management education at the university.
His many honors include selection as the 1983 Outstanding Alumnus of the University of Georgia's Grady College of Journalism and Mass Communications, and induction into the Mass Communication Hall of Fame at Texas Tech University. He is a former member and chairman of the University System of Georgia Board of Regents and has served on the boards of trustees of the Augusta College Foundation, Paine College and the University of Georgia Foundation.
In addition to serving on the Board of Trustees of Columbia Theological Seminary, Morris is a former director of the National Science Center Foundation, and former director of the Southern Company and Georgia Power Company. He is a founder and former chairman of the Greater Augusta Sports Council, director and president of the Atlantic Coast Cutting Horse Association, founder and show chairman of the Augusta Futurity, and chief executive officer of the National Barrel Horse Association of America.
A life trustee of Darlington School and visitor emeritus, Morris was Darlington's 2002 Distinguished Alumnus and served as chairman of the Campaign for Darlington. He was the ninth speaker in the Class of 1953 Lectureship Series in 2012. He is married to the former Mary Sue "Sissie" Ellis of Columbus, and they have two sons, a daughter, and six grandchildren. His son, Will, graduated from Darlington in 1979 and is a former trustee.
"Mr. Morris is a true Darlington legacy. He and his family continue to support Darlington in every way, truly making a difference in the daily lives of our students," said Julie Lucas ('97), chief advancement officer at Darlington. "We are forever proud and grateful for Mr. Morris and his leadership at Darlington, in Augusta, and in the State of Georgia."
Morris and the other nine recipients were awarded the Governor's Award for the Arts and Humanities following a competitive selection process from nominations submitted from around the state. They represent a diverse group of individuals and organizations that have contributed to, and supported the growth of, Georgia's thriving creative industries through community involvement, pioneering programs and long-term financial commitment.