Critics: Georgia's halt to $300 weekly jobless benefits won't spur workforce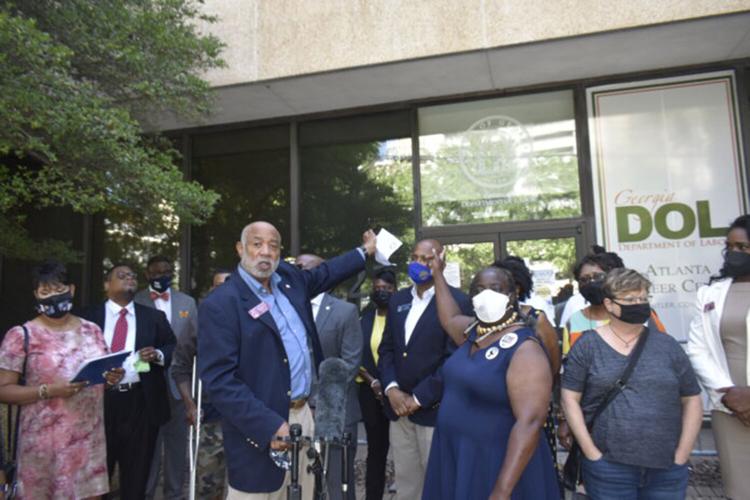 GEORGIA — Amanda Shorts had a great job as a project assistant for a civil engineering firm before COVID-19 came to Georgia. Now, she is one of more than 121,000 Georgians looking for work as of the start of the month.
"I knew it was a money thing and it wasn't personal, but it felt like being fired, even though you're laid off and the reason for that is COVID-19 and not anything you did wrong, you still feel horrible," she said.
As soon as she got the news, Shorts applied for unemployment and began looking for work. She's been chronicling her job hunt on a spreadsheet with well over 100 color-coded entries indicating how far she has gotten with each company she applied to.
With many, she gets a rejection almost as soon as she sends her application because of the sheer number of applicants, she said. One job offer she received later turned out to be from a fraudster using the name of a real business, but Shorts hasn't given up.
"It's a numbers game," she said. "Even if you have 100 nos, maybe you have to get 1,000 before you get a job."
Shorts said she's lucky that her husband still has his job, and with his income and the unemployment benefits she receives, they've been able to keep the mortgage paid.
"We'd be homeless if he didn't work," she said. "We already lost one house in 2012 when he got laid off, and we finally were able to afford another house in 2019, but it was based on two incomes, and now we only have one. If I don't get a job soon, it could be our second loss of a house."
Shorts was one of a couple dozen unemployed workers, lawmakers and labor activists protesting in front of the Georgia Department of Labor headquarters in Atlanta Wednesday over a plan to end Georgia's participation in federal unemployment programs, including one that provides an additional $300 in weekly benefits.
The programs will end June 26 rather than their original deadline of Sept. 6, abridging the program by 10 weeks and $3,000 per displaced worker, the state announced last week.
Once Georgia withdraws, workers who can't find jobs will be eligible for regular state unemployment benefits, which max out at $365 a week. Assuming a 40-hour work week, Georgians receiving the maximum unemployment will see their benefits fall from the equivalent of about $16.63 per hour to about $9.13 per hour.
"That isn't enough to pay for groceries, it's not enough to pay for child care, it's not enough to pay rent, it's not enough to pay your mortgage," said James Williams, president of the North Georgia Labor Council. "Georgians are going to start losing their houses. They're already having a hard time trying to get good-paying jobs in Georgia. And the Department of Labor is expecting more Georgians to get back to work when their offices are barricaded right now."
The Georgia Department of Labor indefinitely closed its physical offices to the public last March to avoid spreading COVID-19, but employees are still working, often long hours, dealing with the unprecedented number of Georgians out of work, said department spokeswoman Kersha Cartwright.
"The majority of our folks are not working from home, they are working in those career centers. Those career centers are just not open to the public. We've got people working in the career center that they were meeting in front of today," she said. "There have been employees in those career centers, there have been employees working from home, there have been employees working in different places, but the employees for the Department of Labor have been working every single day."
Gov. Brian Kemp, Labor Commissioner Mark Butler and conservative allies have characterized the $300 checks as an incentive to keep Georgians off the job, which they say has contributed to a labor shortage.
"Georgia is open and the best state to do business for a reason, yet the biggest challenge our small businesses are still facing is rebuilding their workforce when their employees are receiving a bonus to stay at home," said Georgia Republican Congressman Drew Ferguson. "It's time to put the pedal to the metal in our economy and restore the dignity of work."
Georgians have good reasons to be reluctant to get back to work, said Sen. Tonya Anderson, a Lithonia Democrat and chair of the Georgia Legislative Black Caucus.
"There is no consideration about the child care challenges many of our workers face, particularly when many school-aged children are still at home," she said. "There is no discussion about the fear workers may have over returning to the workplace and facing the possibility of contracting a variant of COVID-19. There is no debate on how we can provide workers additional training for emerging sectors with high salaries."
In a statement released last week, Gov. Kemp's office and department of labor said "resources for job search support, education and training opportunities, child care and transportation services, and safe workplace initiatives for workers, families, and employers" will be released in the coming weeks, but further details are not yet revealed.
Help for job seekers is available on the department of labor's Employ Georgia website, including resume writing tips and interview skills, Cartwright said, and the governor's office will be releasing details on other initiatives to support Georgians returning to work. The governor's office did not respond to request for comment for this story.
Paying workers more would be a better way to get them back on the job site, said state Rep. Dewey McClain, a Democrat from Lilburn who sponsored a bill in this year's legislative session to increase Georgia's minimum wage to $15 an hour. The bill did not advance.
"Who's complaining about not having work? Is it high-paying jobs paying $15, $20, $25 dollars an hour? No, they're not," McClain said. "They're jobs that are paying $5.15 an hour, they're jobs in poultry, they're jobs out there picking grapes and picking fruit."
Georgia's minimum wage is $7.25 per hour, a floor set by the federal minimum wage rate, with exceptions for jobs that depend on tips like restaurant servers.
The leisure and hospitality industry, a category that includes entertainment and food service, reports the largest hiring gap, according to the state labor department, but other industries including freight and poultry also report having far more jobs than applicants.
It's not easy to see how training programs would motivate workers to move back into jobs with low barriers to entry, said University of Georgia associate professor of economics Ian Schmutte, but solving the problem of child care and convincing workers that returning is safe could be keys to building back the workforce.
"I don't think that this is a situation where we've got workers with certain skills and employers that are going to be demanding different skills and so there's some mismatch that training is going to fix," he said. "I do think that there's a massive issue with child care."
Other workers are understandably not excited to return to low-paying jobs and worried a new COVID-19 outbreak could put them at risk, he said.
"People are reluctant to return to work in sectors where they were laid off for months, in an environment where that could easily happen again. So I would take the vaccination drive very seriously and issues of child care very seriously. I don't think cutting off unemployment insurance benefits is going to be particularly effective."
Some of the demonstrators, like Marcellus Rowe, a former public transit worker from Atlanta, said they hope the worker shortage will cause people to see the importance of essential workers and rally for higher pay and better benefits.
"Like we've seen this summer with the protests, this generation is different," he said. "We're not going to be doing a lot of singing, no, we didn't come to play. We actually are out on the ground, and we will put the pressure on."