Collier, Mount Paran walk off for semifinal sweep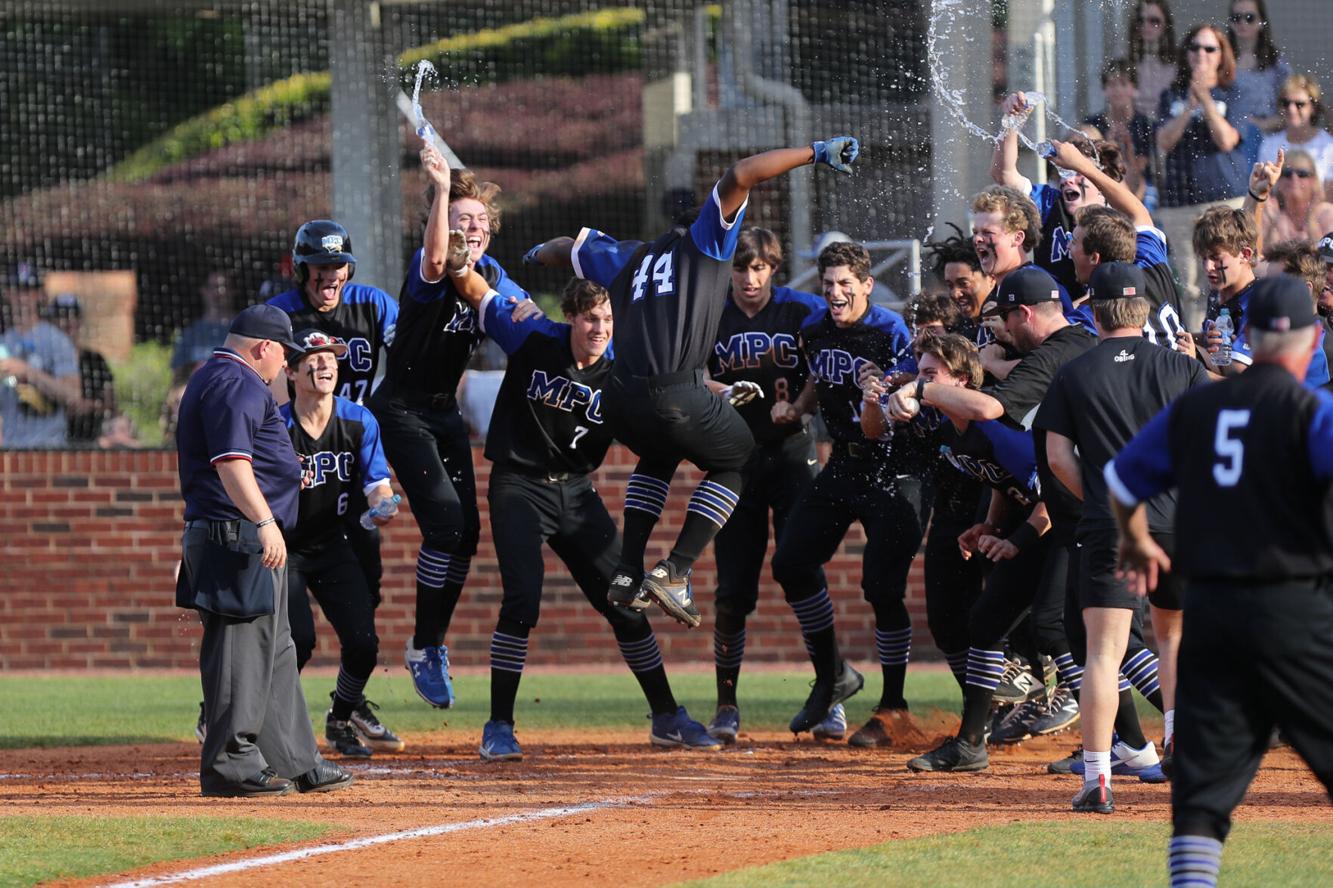 ROSWELL, Ga. — Fellowship Christian pitchers walked Mount Paran Christian's Cam Collier three times during their Class A Private school state semifinal doubleheader on Saturday.
They should have made it four.
With one out in the bottom of the ninth, Collier barreled a pitch that was down and in and put it halfway up the 70-foot trees behind the right-center field fence for a walk-off home run to lift the Eagles to a 3-2 win, a two-game sweep and a spot in next weekend's state championship series against Wesleyan (32-4) at Coolray Field in Lawrenceville. It will be their third trip to the finals and first since 2014, the second of back-to-back runner-up finishes.
Mount Paran (27-4), won Game 1 17-2.
The at-bat was the second Collier had gotten off Paladins' reliever Cooper Davidson. His first time up against him in the seventh Collier scratched out an infield single, but it was enough to get his timing down. The second time, he made the necessary adjustments.
"I wasn't really surprised that they didn't walk me," Collier said. "Because I was only (1-for-5 with three walks in the two games) to that point. He threw me a change-up down-and-in and I caught it out front. As soon as I hit it, I knew it was gone."
At that same time his teammates poured out of the dugout to meet him at home plate and the celebration had begun.
"I had the biggest smile I've ever had rounding the bases," Collier said.
Eagles' coach Kyle Reese said he was glad he didn't have to make the decision whether or not to pitch to Collier.
"They were in a tough situation," Reese said. "Do you pitch to him, or do you put the potential winning run on first base?
That decision was made harder because it was the four batters behind Collier who spurred Mount Paran's rally in the sixth inning to tie the game. Down 2-0, and without a hit to that point, Jake Tucker led off the inning with a walk. Tyler Minnick followed with the team's first hit of the game, a single to left, and then Josh Fitzpatrick walked to load the bases. With nobody out, Luke Dotson singled to center to bring in Tucker and Minnick to tie the game.
Equally as impressive as Collier's walk-off homer was the pitching performance by Paul Farley. Making his first start since the season-opener against North Hall on Feb. 17, Farley gave up two runs in the top of the first inning. He got out of trouble in the second, and then settled in starting with a seven-pitch third inning.
"I was locked in after that," he said. "I have been stepping up this season when I've been needed. I knew I was ready for this."
Farley went on to pitch eight strong innings and frustrated the Fellowship (25-8) lineup after the two early runs. He finished the game allowing six hits, allowing only three after the first inning, one walk and six strikeouts. Plus, after he got the third out in the seventh, the first thing he did was as he came off the field was go to Reese and say he wanted the ball in the eighth.
"What you saw from the third inning on was what we have seen from (Farley) all season," Reese said. "He's been one of our main guys out of the bullpen all season."
Tucker took over in the ninth and gave up a hit and a walk, but struck out two, including Will Phipps to get out of the inning and keep the game tied to set up the Eagles for the walk-off.
Farley was pushed into Saturday's start because, Collier, the usual Game 2 starter, did not have enough rest between appearances to be eligible to take the ball. What Farley's start also did was make sure Collier will be in position to take the ball in the state championship series on Friday. If the Eagles would have lost, Collier would have pitched Game 3 on Monday.
Fellowship Game 2 starter Grant Hudson pitched five no-hit innings, and worked around five walks to keep the Eagles off balance. The same could not be said in Game 1.
After three scoreless innings, Mount Paran began to figure out Paladins' starter Jason Gilley in the fourth. With two outs, an error put Minnick on first. Fitzpatrick followed, turned on a pitch and put it over the left field fence for a home run and a 2-0 lead.
With two outs and a runner on third in the fifth, Tucker began a four-run rally with an RBI single to center. After a hit batter and a walk loaded the bases, Dotson came through with a bases-clearing double to left to make it 6-0.
Fellowship would end up using five pitchers, and none of the relievers had much success. Mount Paran added three runs in the sixth and would send 13 batters to the plate in an eight-run seventh. The rally was highlighted by a two-run home run by Minnick and an RBI single by Kyle Crisp. The Eagles also took advantage of four walks, a hit batsman and two errors in the inning.
The offensive output was more than enough for Dotson, who pitched a complete game, two-hitter with six strikeouts. His only mistake came in the bottom of the sixth when he hit a batter and then gave up a long home run to Fellowship's David Bishop.