Cobb County COVID-19 update: 'We are on the right track'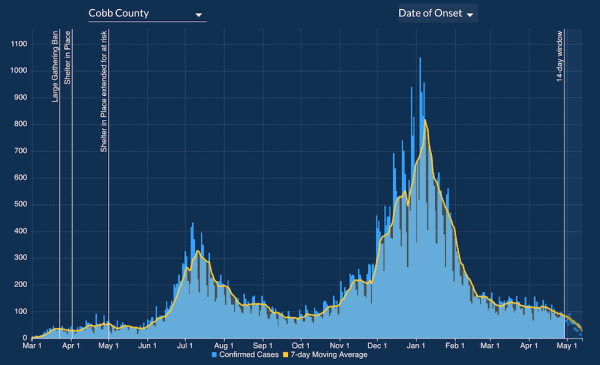 AUGUSTA, Ga. – The day after the Centers for Disease Control offered major guidance for vaccinated people, the head of Cobb and Douglas Public Health issued encouraging words about local COVID-19 metrics.
In her weekly message on Friday, Dr. Janet Memark said trends over the last two weeks "have been the most optimistic that we've had in a long while."
While case numbers in Cobb are still in what's called "high transmission"—a 14-day average of 100 cases or less per 100,000 people, for both PCR and Antigen tests combined—"they are heading in the right direction. We also see percentage positive rates that are also very promising. Hospitalizations also remain at lower levels and do not seem to be trending upwards at this time."
As of Saturday, that number in Cobb has was 139, according to the Georgia Department of Public Health, which publishes a daily status report.
Another key indicator she mentioned is the test positivity rate, and earlier this week Memark told the Cobb Board of Commissioners that number has fallen to around 3 percent, well below the 5 percent threshold that concerns public health officials.
She also said 31 percent of Cobb County residents—by total population— are "fully vaccinated," meaning they have received both doses of the Pfizer or Moderna vaccines or the single-dose Johnson & Johnson vaccine.
"We continue to be under the national statistics and need to keep going with vaccinations to ensure that this pandemic remains controlled," she said, adding that "We are on the right track."
On Thursday, the CDC guidance said that "fully vaccinated" people do not have to wear masks indoors, and the Cobb County School District quickly dropped its mandate.
Those developments came as the U.S. Food and Drug Administration approved the Pfizer vaccine for ages 12-15. Georgians 16 and older have been eligible for vaccinations, and Memark said Friday that "we urge all citizens 12 years and older to get vaccinated as soon as possible."
Cobb and Douglas Public Health is administering the Pfizer vaccine at Jim Miller Park (2245 Callaway Road) at the following times:
Monday – Friday: 9:00 a.m. – 3:00 p.m. (Walk-ups accepted until 2:00 p.m.)
Saturday: 9:00 a.m. – Noon (Walk-ups accepted until 11:00 a.m.)
You can set up an appointment by clicking here or search for other vaccine locations by clicking here.
Cobb and Douglas Public Health is also continuing to provide free COVID-19 testing; details can be found here.
As of Saturday, there have been 78,824 confirmed COVID-19 cases in Cobb County since the pandemic began in March 2020, and 1,057 confirmed and probable deaths.
Cobb and Douglas Public health noted this week that people 70 and older represent 8 percent of Cobb's overall population but they account for 72 percent of the deaths. Those 80 and older comprise 42 percent of all the deaths in Cobb.