Augusta parents charged with murder of 1-year-old, mother and neighbors say there's more to the story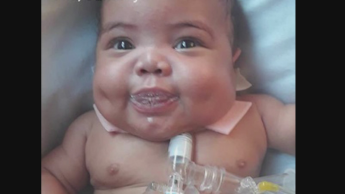 AUGUSTA, Ga. – An Augusta couple is behind bars for the death of their 1-year-old.
The parents of 1-year-old Travis Scott are charged with Murder in his death. But neighbors say there's much more to this story.
"So I got hospital records that can prove my child was in great health depending on however they want to look at it, this investigator is trying to pin me out for something that's not even true "
That's Salena Scott via telephone from jail at the Webster Detention Center. She and her husband Tyrone Scott are charged with Murder and Child cruelty in the death of their 1-year-old son, Travis.
Arrest documents say the two cut off their son's ventilator after multiple nurses told them not to.
Mark Larcesy and Ron Smith lived next door to the family. And say they knew them pretty well.
"I know them better to not do anything like that, because they were real peculiar about that baby and they took precautions," says Larcesy.
"Honestly I don't think the kid could've had a better parent. They took care of him, if they wanted a bird house he'd get it, they was good people, I don't understand that," says Smith.
The incident happened earlier this month. A friend of the family who says she was there, but did not want to go on camera, tells NewsChannel 6 that the ventilator would shut off on its own periodically.
Smith and Larcesy back up that story.
"I know for a fact, one time the baby had a little clog in the ventilator and they rushed him to the hospital right then because they seen something was wrong with the ventilator," says Larcesy.
"Yeah they did mention that a couple of times with the ventilator going out and stopping from time to time but as far them killing they kid, I don't see that," says Smith.
Family members say Travis had a lung issue.
"So he has a habit of pulling on it, you know, his biting teeth. So just because he has a trache does not mean he wasn't growing no teeth or nothing else. So he would pull on it, I guess. I don't know if it was some kind of soothing mechanism or whatever but he would pull on it and just one time unfortunately, he flipped himself over and couldn't get back over," says Scott.
And because of his medical condition, they kept people away.
"And they were really funny about who would come around him, because he had the medical problem. So they kept him real protective from people and like I said I don't see this being a thing they would do on purpose," says Larcesy.
Salena Scott's family says she was a good mother.
"My daughter was there everyday with her child. When I say everyday, we got pictures proving she got month 1 from the time she had this baby until now."
Tyrone and Salena Scott are in the Webster Detention Center in Augusta.
We expect to learn more about this investigation in the coming days and when we do we will bring it to you.