Augusta fire union calls for chief's resignation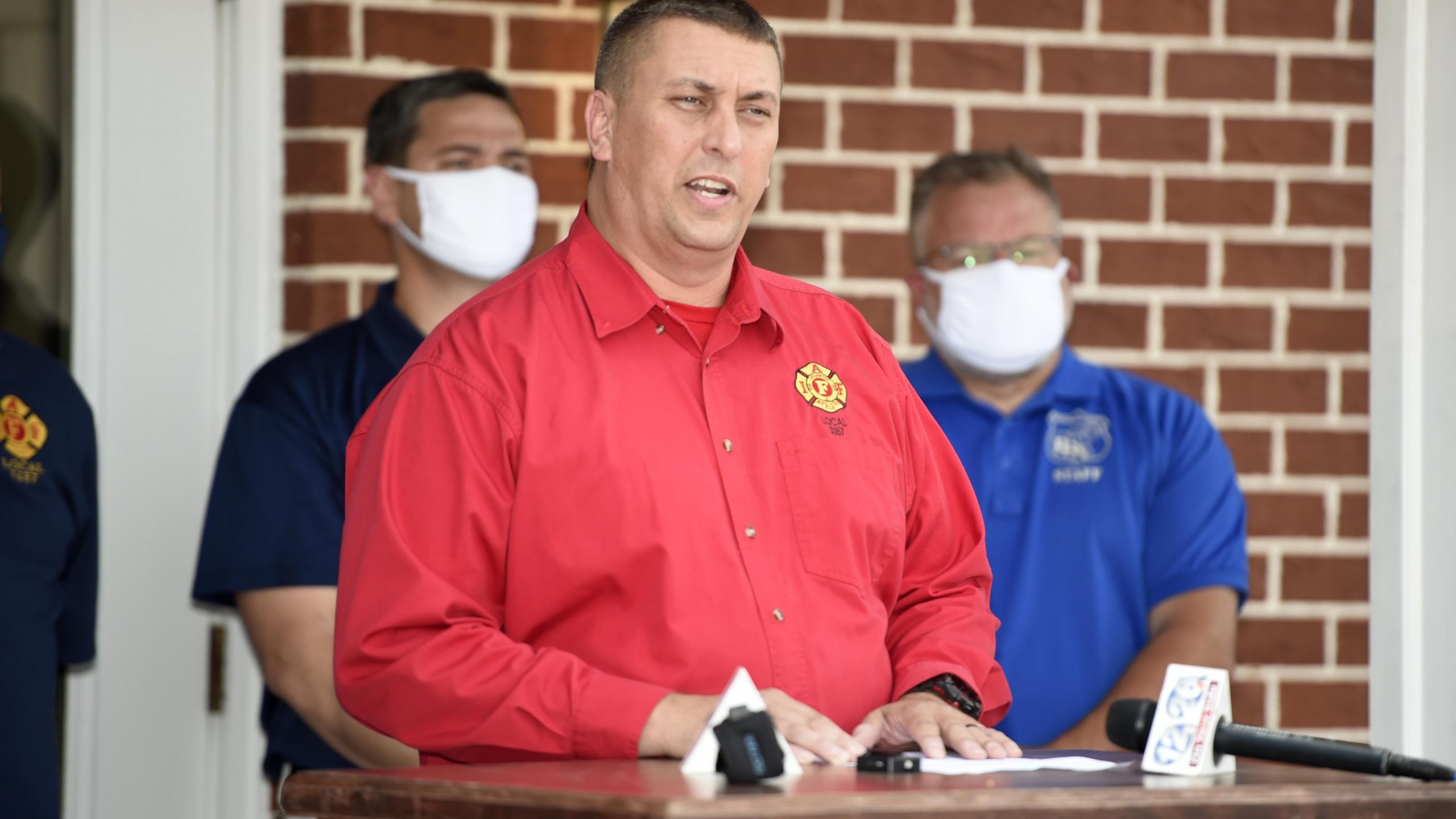 AUGUSTA, Ga. – The head of the Augusta firefighters union Tuesday called for Fire Chief Chris James to resign or be fired, handing to the media flash drives full of evidence he said supports the demand.
"I hope you take a look at all of that information; I hope you take a look at any of those recordings," said Michael Tomaszewski, president of the International Association of Firefighters Local 3357.
"I want you to verify it for yourself. I fear no scrutiny. I can prove all of it and unfortunately, I can prove a lot more," he said.
Flanked by around 50 police and fire union members, but not the chief or any elected official other than Commissioner Bill Fennoy, Tomaszewski urged James to step down.
"It's time to go. It's time to retire," he said.
After the news conference, Fennoy and retired Battalion Chief Steven Bell got in an argument after Bell showed him a letter regarding James' upcoming appearance before the state firefighter pension board.
Fennoy, wearing a Black Lives Matter mask, told Bell the predominantly white union crowd was "racist," and he and Bell shouted at each other.
Fennoy said he hadn't looked at any of the documents Tomaszewski provided James, the commission and other city officials last Wednesday and of them, that "anybody can put something on paper."
He said the union was doing the same thing it did to former chief Ronnie Few, who is Black and resigned from the department in June 2000.
"This organization went all the way to Washington, D.C. to try to discredit Chief Few," Fennoy said.
The same union had a hand in the 2011 resignation of former Chief Howard "Bubba" Willis, who was white. The opening paved the way for James, who is Black and was then an active association member, to become chief, Tomaszewski and other members said Tuesday.
The Chronicle obtained much of Tomaszewski's report last week. In it were emails from former Fire Department attorney Jody Smitherman's husband Doug trying to sell paint to the department, a timeline of the difficulty Tomaszewski had obtaining city records, detailed lists of resignations and retirements and alleged disparities in promotions and discipline, including for a group of firefighters who created a risqué TikTok video at an Augusta station.
The documents showed the average number of firefighters working overtime each day last year was 7.5, up from 2.7 in 2018. To date, 67 firefighters resigned and 33 retired since January 2018, while only 67 have been replaced, mainly with new recruits.
Tomaszewski said Tuesday he and others had earlier met repeatedly with the city administrator and chief to attempt to resolve staffing and other concerns, but did not observe promised improvement.
"Operationally we are running a negative 75 (personnel.) We are this close to being short an entire shift on the fire department," he said. "Why have we burned through over three-quarters of the increased overtime budget just for this year?"
James said he was "disheartened" by the claims but had no plans to resign. He said the claims were "misleading" and the documents "old" and already addressed.
Included among the hundreds of documents were Tomasewski's own analysis of overtime and resignations as well as the Smitherman emails, which were deleted by Fire Lt. Harmon Brown in October 2018, prior to the city's investigation of the incident.