Woman on vacation with her husband drowns along with their 7-month-old Golden Retriever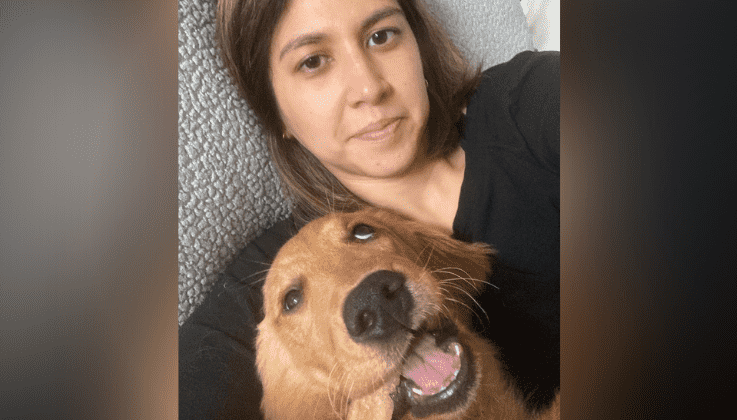 A family vacation took a drastic turn after a woman from Brooklyn, New York, was reported missing. The 36-year-old woman named Erika Seyfried was holidaying with her husband in Westminster, Vermont. The couple's 7-month-old Golden Retriever, Jules, was also accompanying them and had gone missing along with Erika during the incident. Following Erika's disappearance, the police began searching for her and said on Monday, August 30, that the case is "not suspicious, but there are concerns for her welfare."
It was reported that Erika went missing after she stepped out of their vacation home. On Sunday, August 29, local authorities were informed and Erika was reported missing at around 8 pm local time.
In a statement released by the Vermont State Police, the department said: "Erika Seyfried, of Brooklyn, New York, was reported to have gone for a walk with her 7-month-old golden retriever and has not returned. The disappearance was reported to the Vermont State Police at about 8 p.m. Sunday and is not considered suspicious, but there are concerns for her welfare."
"Erika is about 5 feet 2 inches tall, weighs 120 pounds, and has shoulder-length black hair and brown eyes. She is believed to have been wearing black flip-flops; no other clothing description is available," the statement continued.
As the search for Erika ensued, members of the Vermont State Police Scuba Team found the body of a woman in the Saxtons River. They suspected that the body belonged to Erika because the couple was staying close to the river while holidaying. The Vermont State Police soon confirmed that Erika had drowned and her death seems to be an accident.
In addition to this, the couple's dog, Jules, was also found dead close to the spot where Erika's body was retrieved. Members of the police as well as Erika's family found the dog's body on Wednesday afternoon. The police believe that, just like Erika, Jules also drowned to death after going missing.
Soon after the news came to light, a spokesperson for the Penguin Random House paid tribute to Erika, who worked with them for over 13 years. She was working as the vice president and director of digital strategy and consumer engagement for the Penguin Random House. And the spokesperson described her as "the embodiment of what we all hope for in a colleague, and friend."
"We are devastated by the loss of our colleague Erika Seyfried, 36, who died in Vermont on Sunday," read a statement, released by the spokesperson. "Her reader-centric approach to consumers, her social media prowess, and her tireless nurturing of our authors earned her reverence throughout our company and our industry.
"With her forward-looking, inclusive approach to every team and project she led, Erika was the embodiment of what we all hope for in a colleague, and friend," the statement added. "Our thoughts are with Erika's family, loved ones, and our colleagues who worked with her and adored her."