University of Georgia golfers play in Augusta National Women's Amateur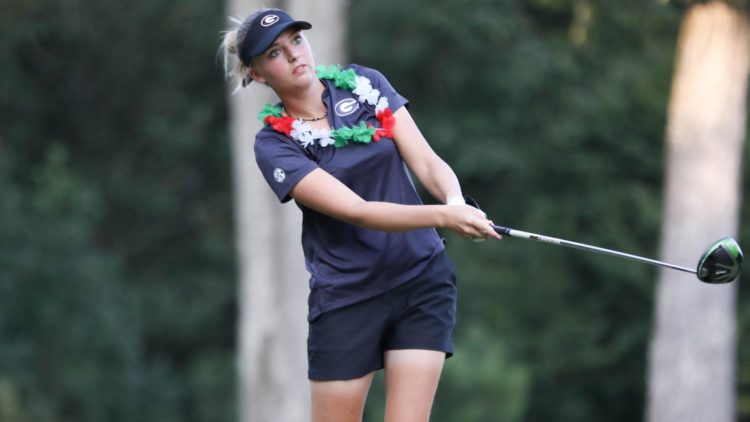 COLUMBIA COUNTY, Ga. – The first round of the Augusta National Women's Amateur was suspended Wednesday afternoon due to inclement weather but before that happened, players gave it their best shot at the Champion's Retreat Golf Course.
FOX 54 caught up with one golfer, Candice Mahe, who says its her first time here but she feels right at home being from the University of Georgia. "Yeah we do feel that cause everybody's saying go dogs! Yeah its really cool."
Mahe is a sophomore at the University of Georgia. It's her first time competing in the Augusta National Women's Amateur. She says she and her two UGA teammates seem to be getting all the love at Champions.
"Yeah its great because whenever I get here all of volunteers are like go dogs that's really fun and its nice to play a tournament in Georgia," said UGA freshman Isabella Holpfer.
Before that rain came pouring down, Mahe was in full swing. She managed to finish her opening round; carding a 77.
"Tough but really good golf course," said Mahe. Tough meaning difficult around and on the greens. And then there's the challenge of reaching the greens. "You have to stay focused on every shot. There is no shot you can be like 'oh okay you can hit it on the fairway'. You need to think on every shot that you have and I think that's the most challenging part of this course."
She says her game on day one was pretty solid, but acknowledges she has some work to do over the course of the second round to make the 36 hole cut to play in the final round Saturday at Augusta National. "Gonna see how it goes tomorrow. I'm going to give myself the best."
FOX 54 will continue to bring you the latest on the 2021 Augusta National Women's Amateur.