Star point guard Sahvir Wheeler leaving Georgia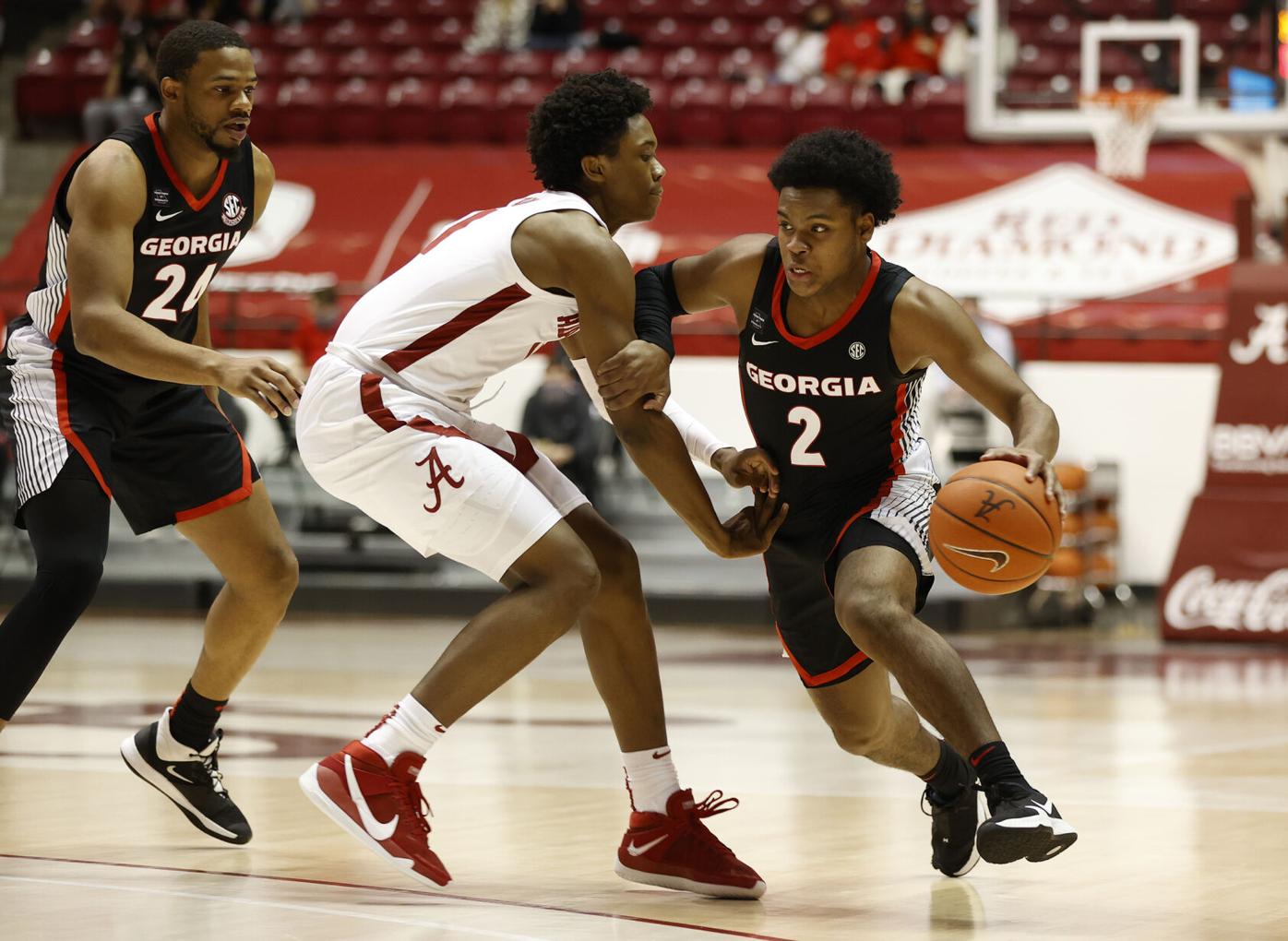 ATHENS, Ga. – In a devastating blow to Georgia basketball and coach Tom Crean's efforts to rebuild it, sophomore point guard Sahvir Wheeler decided to leave the program.
Wheeler's father, Teddy, confirmed the news Tuesday. It was first reported by ESPN.
"I don't have anything to add," Teddy Wheeler said. "I'd rather him tell his own story. I think that's appropriate because this is not about me."
Teddy Wheeler confirmed that Sahvir is at home in Houston and plotting his next move. He has entered his name into the NBA draft. However, he is not hiring an agent and is simultaneously entering the NCAA's transfer portal. Though he left the door cracked open, it does not appear Wheeler will be returning to Georgia, where he set several assists records as an All-SEC guard this past season.
"I am hoping to get in front of NBA personnel so they find out more about me and what I could bring to an NBA franchise," Sahvir Wheeler told ESPN's NBA draft expert Jonathan Givony. "I entered the transfer portal at the same time to evaluate all my options as I try to determine my path of realizing my dreams of winning at the highest level and playing in the NBA. For most people, there is a direct correlation between the two."
Wheeler was a second-team All-SEC selection for Georgia this past season while averaging 13.9 points, 7.3 assists and 1.7 steals. He ranked first in the SEC in assists and fifth nationally
Crean, entering his fourth season as the Bulldogs' coach, offered a statement via text message Tuesday.
"We all have endured unprecedented times globally with COVID and in college athletics," Crean said. "We have also had to deal with the portal and the approval of the one-time transfer rule that was passed on Thursday. After talking with Sahvir and his family and realizing that he and his family have only seen each other a couple of times in the last 9 months along with the strain of the isolation it took to play this year and the desire to chase his dream of playing in the NBA, the Wheeler family has informed me Sahvir's intent to transfer and be closer to home. We appreciate Sahvir's contribution to our program and wish him the best moving forward."
Wheeler is the third starter and sixth player overall to leave Georgia since the beginning of the 2020-21 season. He joins sophomore Toumani Camara (Dayton), junior Tye Fagan (Ole Miss), sophomore Christian Brown (Tennessee State) and junior Mikal Starks in deciding to leave since the 2020-21 season concluded. Sophomore Jaykwon Walton left early in the season.
That brings to 13 the number of players who have left Georgia since Crean became head coach three seasons ago.
The mass exodus is not unique to Georgia. As of 9 a.m. Tuesday, 1,406 Division I men's basketball players had entered the NCAA's transfer portal, according to tracking website verbalcommits.com. At last count, six had left Auburn, Florida and Tennessee and eight have departed South Carolina.
Meanwhile, Georgia has added four players via the transfer portal: Jabri Abdur-Rahim from Virginia, Noah Baumann from Southern Cal, Braelen Bridges from Illinois-Chicago and Jailyn Ingram from Florida Atlantic.