Pacers sweep doubleheader, still have PBC tourney hopes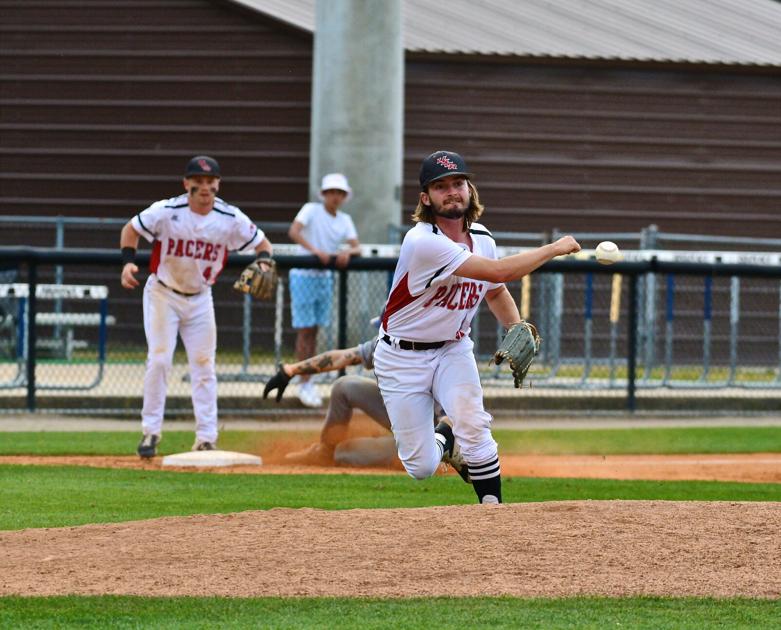 AUGUSTA, Ga. – The first game was a tense battle, each side waiting for the other to blink and allow some runs.
The second one was more like riding a rollercoaster at the fair for USC Aiken baseball coach Kenny Thomas.
Such is the range of emotions over seven hours of a Peach Belt Conference doubleheader, but at least for Thomas it produced two wins. USCA locked up its fifth consecutive series victory Saturday by beating Young Harris 4-2 and 14-9, keeping alive the Pacers' hopes of making the PBC Tournament.
"The guys played hard. I'm very proud of them," Thomas said after his team made sure he'd be a winner in the final home series of his career. "Second game was tough. You've got to give Young Harris a lot of credit. They fought back after giving up seven in the first inning. They fought back and played extremely hard, and we hung on there at the end."
Those seven runs in the first inning were followed by two more in the third, giving USCA (18-14, 16-13 PBC) a 9-1 lead and creating the possibility of an early finish to the afternoon.
The visitors had other ideas, but every time the Mountain Lions (18-12, 16-10) looked poised for a breakthrough the Pacers had a response.
Look no further than the seventh inning. Young Harris plated three runs – and could have had more had the Mountain Lions not stranded two runners – to trim USCA's lead to 10-7.
The Pacers tacked on four more in the home half of the inning, though, on Nick Tripp's RBI groundout, Jeff Cyr's RBI double and Tai Gilbert's RBI single.
Just like that, it was a seven-run lead once again.
"They just battled. This team is different than other teams I've had here over 22 years," Thomas said. "This team's not gonna stand up there and hit the ball out of the park, so we have to understand what makes us successful. I just thought today they played hard. We played really good defense all day long, and that's very important for our team."
Tripp and Cyr each went 2-for-5 with three RBI in the game, and Gilbert was 2-for-5 with two RBI. Morgan Hyde was 3-for-3 with two RBI, and James Eckert had his second multi-hit game of the day by going 2-for-6 with two RBI.
The defense was mistake-free and helped the pitching staff get through a couple of rough patches. Lindsey Robinson, Jr. got the start on the mound and allowed four runs on six hits while walking four and striking out five in 4⅔ innings.
Austin Hohm (1-0) picked up the win after pitching the next two innings, in which he allowed two runs on three hits and two walks. Strom Thurmond grad Henry Cartett allowed a run and a hit while striking out four over two innings, and South Aiken product Will Varnadore allowed two runs in the ninth.
That looked nothing like the first game, which breezed by in barely more than two and a half hours.
Daniel Wiggins (4-1) got the start and went 6⅓ innings, allowing two runs on six hits while striking out seven and walking only one. Austin Sandifer was credited with the save after allowing just two hits over the final 2⅔ innings.
Eckert had two of the team's eight hits. The Pacers left only four runners on base – partly because there weren't many runners aboard, and partly because they brought them home when they had the chance.
Sacrifice flies by Jackson Hannon and Tyler Littlefield made it 2-0 through four innings, and Hyde doubled home Eckert in the fifth and then scored on a Tripp single two pitches later.
The Mountain Lions put the first two batters of the seventh aboard, and Wiggins exited the game after a strikeout. Young Harris cut the deficit in half that inning, but Sandifer came back out with a perfect eighth and escaped a two-on, one-out jam in the ninth.
The Pacers still have a chance at a top-four finish in the conference and a trip to the PBC Tournament. They're currently in fifth – two games behind Columbus State in the loss column – with four games remaining.
They've come a long way since the start of the season, when they were swept by North Georgia by a combined score of 37-4.
"You've got to be proud of the way they've played," Thomas said. "You've seen a steady, steady, steady type team, and that's what we were trying to get. I'm very proud of them."
Sunday's series finale is scheduled for 1 p.m. at Roberto Hernandez Stadium. The Pacers visit Lander next weekend to wrap up PBC play, then return home for Thomas' final home game the following Tuesday against Georgia Southwestern in a non-conference game.