Lights Out 12 Drag Radial Racing Coverage From South Georgia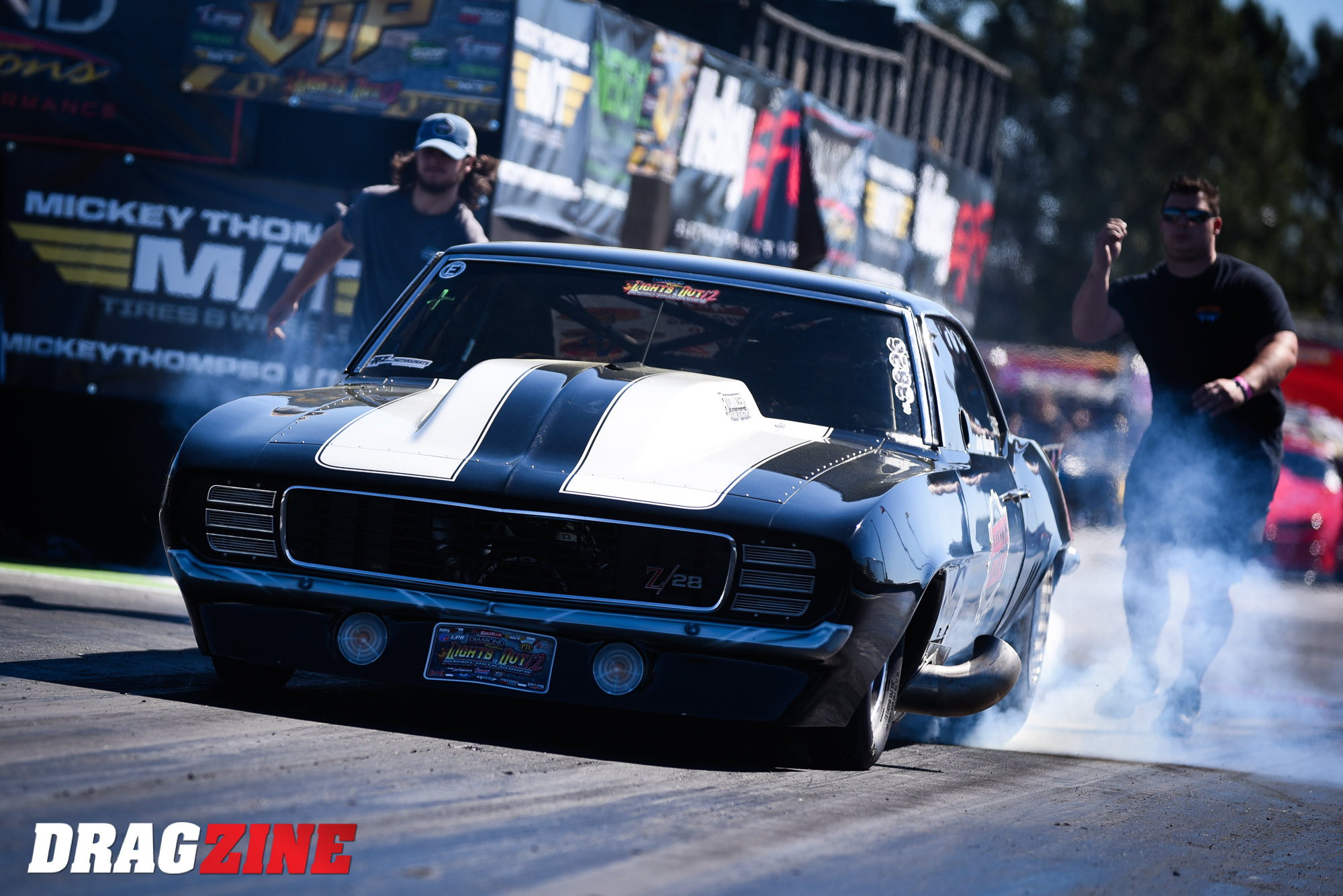 GEORGIA – Greg Schmidt said he would never put a turbo on his car, nor would he ever put radials on it. This week, he's done both.
Schmidt, a native of Brainerd, Minnesota — his family's automotive repair business is just down the road from famed Brainerd International Raceway — races in "Cash at the Creek" events and other big-tire heads-up and no-time events in and around his home state. But he trekked down from cold and snowy Minnesota this week to the sunshine of Georgia to see what his Camaro is capable of on small tires and a super-sticky racing surface. Because of his combination (which we'll get to in a second) Schmidt's car only fits into Radial versus The World. And while he has no notions of being competitive with 3.5-second behemoths, this trip is all about proving some things to both himself and others.
"I normally run big tires and wheelie bars; we put it on the dyno and found we have enough power and the stuff to go run Radial versus The World. We thought we'd at least try it. Everyone is always telling us 'put it on radials, I bet you won't put it on radials.' So we did, and now they're saying 'wow, you went really fast on radials, good job.' But we did it because they all told us to…we figured it out despite them wanting to see us fail. On the fifth pass, we went 4.34 at 169 mph, which is my best pass ever. We're really happy with that. We put more boost to it in Q2 and backed it up with a 4.37 at 177 mph."
The car is a 2020 Camaro, steel roof and quarters, that began life as a Hennessey car. A 25.2 chassis carries the 528 cubic-inch Hemi and massive 118mm turbocharger that feeds an APD blow-through carburetor. Schmidt attended No Mercy 9 in 2018 with a third-generation Camaro competing in Outlaw 632 on slicks; shortly thereafter that car was sold and another third-gen was built. On just the sixth pass, Schmidt rolled the brand new car at 180 mph; the body was disposed of and that crashed chassis is what you see under this car…straightened and repaired, of course.
Schmidt's t-shirts are emblazoned with "The Eatin' Crow Tour" because he said he'd never put radials or a turbo on his car, and "here I am in South Georgia with radials on and it and a turbo Hemi," he says with a grin.
"We're just having some fun. We pulled into town Sunday and I was telling people that a week before that I was in my trailer with a giant propane heater running so that we could get the car ready and it was 40 below zero. Then I came down here a week later it was literally 100-degrees warmer."
Despite running 210-pounds overweight for his combination in Radial versus The World, Schmidt has clicked off a best of 4.263 at 178.02 mph through four rounds of qualifying.