K.D. Johnson's anticipated debut vs. Auburn energizes Georgia Bulldogs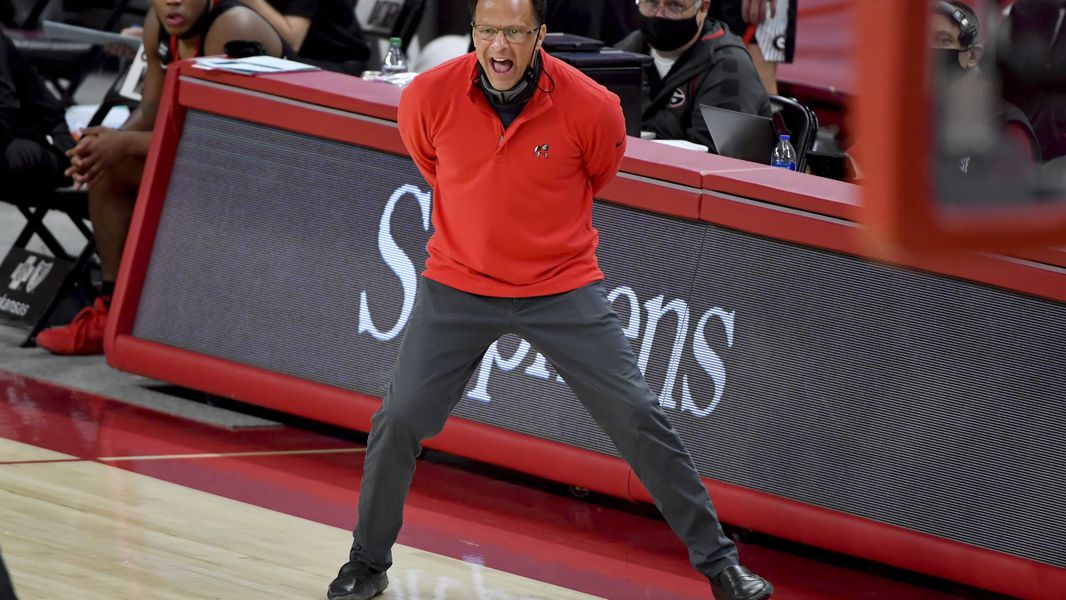 GEORGIA – Two teams stocked with fresh blood and desperate for a transfusion of fortune will clash at Stegeman Coliseum.
Both the Georgia Bulldogs (7-3, 0-3 SEC) and Auburn Tigers (6-7, 0-4) are seeking their first SEC victory as they square off for the 192nd time Wednesday in Athens (7 p.m., SEC Network).
As fortune would have it, the game will serve as the college debut for the Bulldogs' highest-rated recruit of the 2020 class. K.D. Johnson, a 6-foot-1 guard from Decatur, finally was awarded his academic certification from the NCAA on Monday and therefore will be eligible to play for the first time. Georgia is convinced the 4-star prospect out of Southwest DeKalb High by way of Hargrave Military Academy is going to make a difference — in attitude if nothing else.
"Everybody was pumped; it was emotional for everybody, especially for (coach Tom Crean) and K.D. himself," senior forward Andrew Garcia said of getting the unexpected news Monday. "This dude is probably the greatest competitor I've ever seen or ever played with. I'm excited to get him on the court because he plays with tremendous energy."
Crean said Johnson adds "contagious confidence" to the Bulldogs' lineup. But the game he brings – Johnson averaged 26.2 points, 7.4 assists, 4.7 rebounds and 3.1 steals per game in leading Hargrave a 37-4 record and a run to the national prep school Final Four – also can't hurt.
"We've really missed having another pure guard; that's pretty obvious," Crean said before practice Tuesday. "We recruited him to come in and play, and there's no doubt he's going to be a factor."
Auburn can relate.
Sharife Cooper, a McDonald's All-American and the highest-rated recruit to ever to don the orange-and-blue, will be playing only the second game of his collegiate career Wednesday night. He secured his academic eligibility the night before the Tigers played rival Alabama on Saturday.
Coach Bruce Pearl started the 6-foot point guard from Marietta. Cooper played 33 minutes and scored 26 points with nine assists, but Auburn still lost 94-91.
"I'm sure he's going to be sore," Pearl quipped.
So, while attendance at The Steg will be limited to a socially distanced 1,600, there is expected to be plenty of energy and an air of desperation as these old rivals go toe-to-toe yet again.
The Bulldogs got off to a 7-0 start — their best since the Final Four season of 1982-83 – but experienced a fall to earth since conference play began. They dropped an 83-73 decision to Mississippi State in the opener, then dropped back-to-back road games to LSU and Arkansas last week. After pushing the Tigers to the brink in a 94-92 overtime loss in Baton Rouge, Georgia fell meekly in Fayetteville 99-69 on Saturday.
The difference in the effort and the energy in the past two outings was stark.
"When things aren't going well, that's when our team has to come together the most, and I think we didn't," said senior Justin Kier, who scored a career-high 25 points at LSU but just five at Arkansas. "We put our head down a couple of times when they went on runs, and that's what you can't do in this league."
Since then, the Bulldogs have been reassessing "a lot of internal stuff," according to Garcia and head into the Auburn game determined "to stay positive in our approach and stay together."
Having Johnson aboard now should at least reset Georgia's energy and focus. But the Bulldogs also have to figure out how to incorporate him into a backcourt rotation that has been solidly four-deep, and sometimes more, in his absence.
Crean made it clear that Johnson will be part of Wednesday's game plan.
"It allows a lot of different options," Crean said. "It's obviously going to take some time for him to get well-versed when it comes to playing games. Everybody else has played 10 while he hasn't played one yet. But he's an absolute baller, and when you've got that kind of mindset, I think you're going to fit in really well and impact the team."