Georgia voter law draws protesters to busy Augusta intersection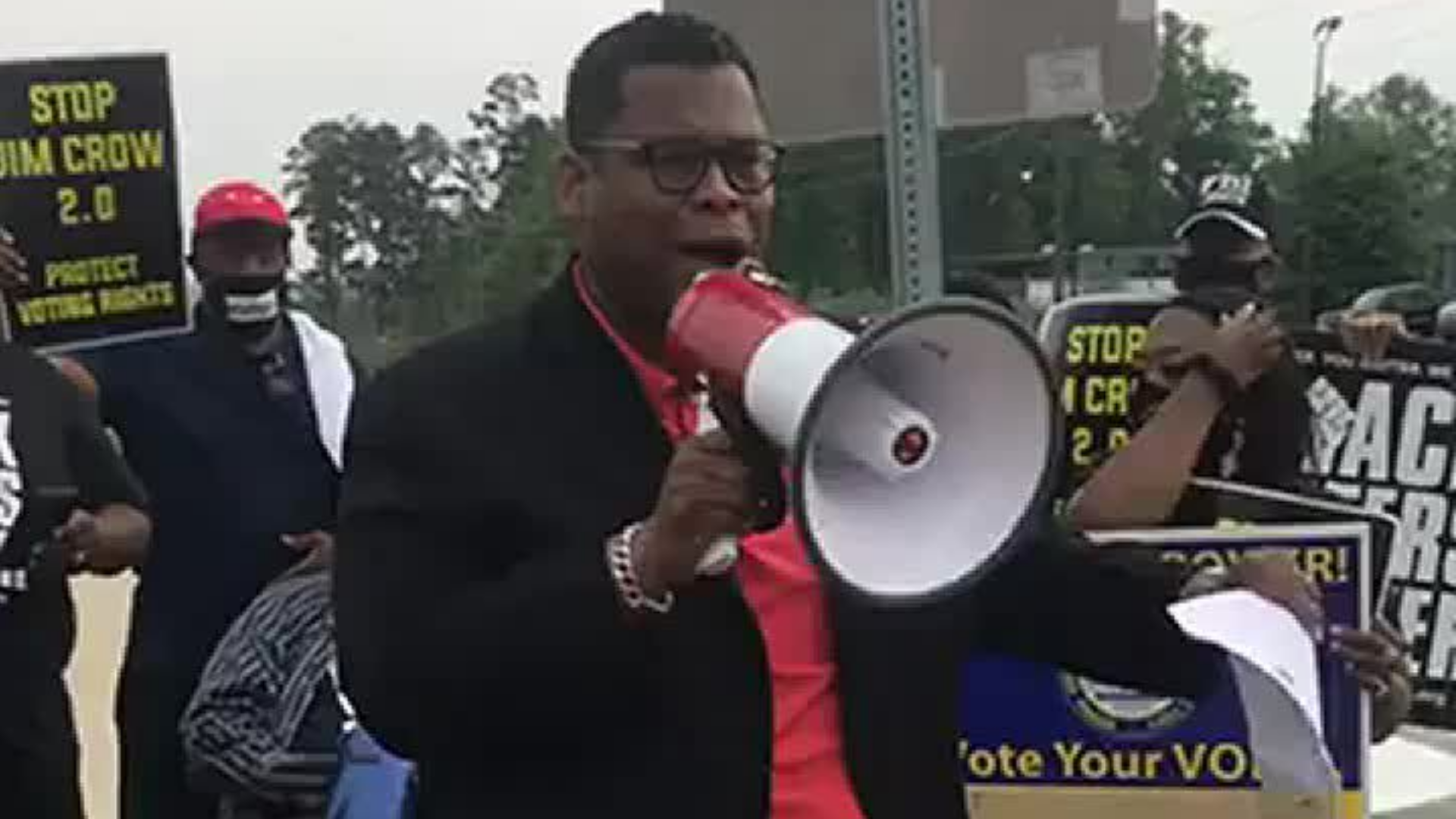 AUGUSTA, Ga. – A group of protesters made their opinion known about Georgia's new voting law on Saturday morning.
Dozens gathered outside Augusta National Golf Club at Washington Road and Alexander Drive, where they could be seen waving at cars passing by as the third round of the Masters Tournament was underway.
Protesters are calling for the Augusta National to put the golf clubs down, and pick up a megaphone.
"Now we need to make sure more companies speak out against these voter suppression bills," said Marla Cureton, a protester.
Georgia's latest voting law is called SB 202, but protesters call it "Jim Crow 2.0."
"The bill is death by a thousand cuts," said Cureton.
The law has been a big talker for both democrats and republicans because it requires an ID to vote by mail. But many at the protest were focused on the fact it criminalizes giving food and water to people waiting in line to vote.
"Black folks don't stand in line and decide who to vote for based on who gives them water or a sandwich," said Reverend Shanan Jones, a protest co-organizer. "They vote their values, we vote our values."
According to a study by the National Bureau of Economic Research, Black communities waited in line 29 percent longer than white communities in the 2016 election.
"The vote is too important. And for us, for African Americans who came to these shores as slaves, or ballot is a blood stained ballot. It's not a ballot that was given to us," said Reverend Jones.
The law specifies poll workers have the option to put out water stations, but protesters say it's not enough. It's why they're calling for Georgia companies to speak up.
And regardless of who gives support, they say they aren't going down without a fight.
"I have given water to Republicans, I have given water and a sandwich to Democrats, I have given water and a sandwich to Libertarians," said Reverend Jones. "And I will continue to do so, because that is southern hospitality, and after all, I'm a Georgia boy."
The protest was underway by 10 a.m. and was wrapping up by noon.
In this week's chairman's conference, Augusta National Chairman Fred Ridley said he supports everyone's right to vote and no one should be disadvantaged from it.