Georgia men's swimming and diving finishes second at SEC championship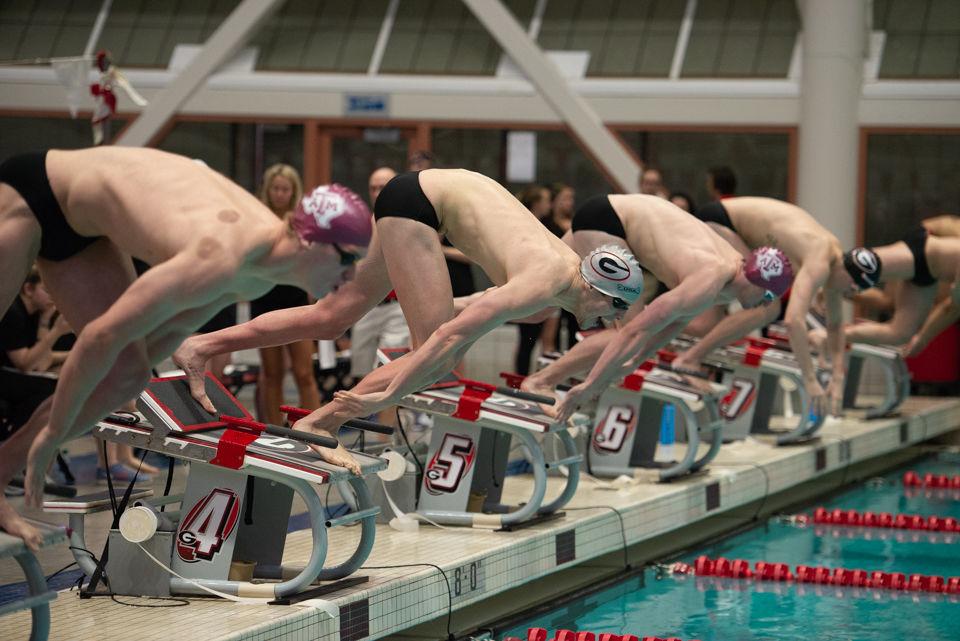 GEORGIA – Georgia's men's swimming and diving closed with a program best 1,324.5 points as it finished in second place at the SEC championships on Friday night.
Trailing only Florida, Georgia finished second for the fifth time under head coach Jack Bauerle. Georgia's point total was the most ever by a runner-up.
Freshman Luca Urlando captured Georgia's only win of the night with a B-cut time of 1:40.93 in the 200-yard butterfly. Freshman Jake Magahey continued his dominance by setting the school record in the 1000-yard freestyle and finishing second in school history in the 1,650-yard freestyle.
Meanwhile, senior Greg Reed captured a bronze medal for the second straight year with a time of 14:52.82.
Day 1 bronze
Georgia's 800-yard freestyle relay team opened the SEC championships with a strong performance, earning a bronze medal.
Urlando, sophomore Zach Hils, sophomore Bradley Dunham and Magahey were all a part of the 800 freestyle relay team that posted a time of 6:14.00, which ranks fourth in school history.
Also, the 200-yard medley relay team posted a time of 1:23.62, earning them a fourth place finish.
Meanwhile, men's diving competed as senior Zach Allen earned Georgia 46 points with his score of 274.25 on the platform.
Day 2 surge
Georgia leapt from ninth place to third place following a historic performance involving winning four medals and breaking three school records.
Magahey earned a silver medal in the 500-yard freestyle by posting a time of 4:06.71. His time broke Georgia's school record that was held by Sébastien Rouault for 13 years.
Magahey's time also gave him the second fastest time in history, only behind Florida's Kieran Smith who holds the American record with a time of 4:06.32
Senior Javier Acevedo and sophomore Dillon Downing both earned bronze medals in the 200 IM and 50-yard freestyle, respectively. Downing posted a time of 18.9 in prelims, setting a school record. Acevedo earned the bronze medal with a time of 1:42.17.
Finally, to close the evening Acevedo, Downing, senior Camden Murphy and Urlando earned a silver medal in the 200 freestyle relay with a time of 1:16.2. Their time also broke the school record previously set by the quartet at the Georgia Invitational in November.
Murphy also placed a personal best 19.5 in the 50 freestyle, the fourth best time in school history.
Continued progression on Day 3
Georgia surged to second place behind a 456.5 point performance, only trailing Florida by 80.5 points heading into the final day of competition.
Murphy shined for Georgia by winning gold in the 100 butterfly with a time of 44.81. He earned his third career gold medal and broke the school record, previously set by him, in prelims with a time of 44.77.
Magahey also earned a victory in the 200 freestyle by posting a career best time of 1:32.22, which ranks him second in school history.
Led by Acevedo, who earned his second title in the 100 backstroke with a time of 44.96, Georgia's backstroke group stole the show, earning a total of 121.5 points for the Bulldogs.
Sophomore Ian Grum earned his first SEC medal with a time of 3:40.51 in the 400 IM.
Meanwhile, freshman Wesley Ng earned victories in the 100 butterfly C final and 100 back C final with times of 46.97 and 47.95, respectively.
Georgia ultimately finished with the fourth-highest total in SEC championship history despite the second place finish behind Florida, who won its ninth consecutive SEC championship.