Georgia legislator 'shaken' after being 'dragged' out of state Capitol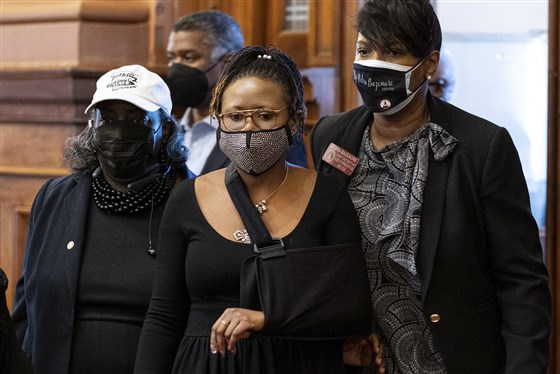 GEORGIA – Georgia Rep. Park Cannon was left "shaken" and injured after being "dragged" out of the state Capitol in handcuffs and arrested on March 25 for knocking on Republican Gov. Brian Kemp's office door as he signed a contentious voting restrictions bill, her attorney said in an interview.
Cannon is resting and spending time with family after the "violent" arrest, her attorney, Gerald Griggs, said Tuesday. Griggs added that Cannon is hoping to have the felony charges against her dropped: obstruction of law enforcement, and preventing or disrupting the General Assembly.
"We're communicating with the district attorney and providing witnesses and videos that show what actually happened. We're hopeful the DA will dismiss the charges," Griggs said. "Then there's the possibility of legal action after that. That could look like anything from violation of civil rights to violation of her duties as an elected official."
Griggs said Cannon, who is Black, often watches the governor sign bills in his office in her role as a lawmaker. Video of the arrest showed two Georgia state Patrol officers handcuffing Cannon after she knocked on Kemp's door to demand transparency as he signed the restrictive voting bill in a closed-door ceremony. She was quickly surrounded by more officers as she identified herself as a legislator and asked why she was being arrested.
She was taken to Fulton County Jail and later released on a $6,000 bond, said Griggs, who is also vice president of the NAACP's Atlanta branch.
"She wasn't belligerent," Griggs said of Cannon. "She was merely asking to witness the attempt to take away voting rights for a large majority of Georgia citizens — particularly Black and brown Georgia citizens. She would have just witnessed the signing, she wouldn't have been disruptive."
Griggs said Cannon sustained injuries and her team is working on "determining the extent of those injuries."
Police have said Cannon was "beating" on the governor's office door before moving to the governor's ceremonial office door, which was marked with a "Governor's Staff Only" sign. Police said they warned Cannon twice to stop knocking or she would be arrested, but Cannon refused.