Creativity abounds at Fox Creek graduation in North Augusta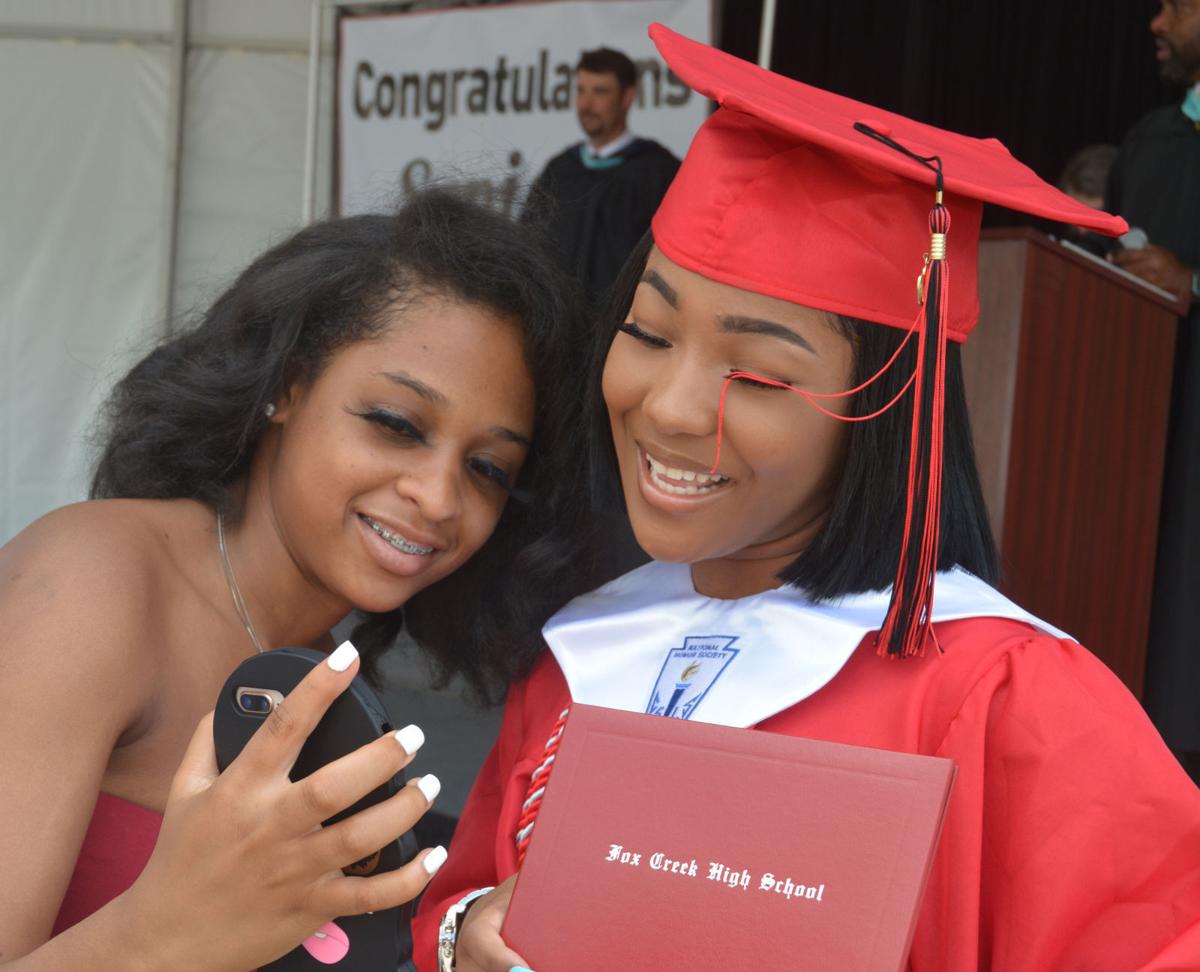 AUGUSTA, Ga. – Fox Creek High School, one of the Aiken-Augusta area's first schools to hold a graduation ceremony this month, had creativity in action May 28, holding an indoor commencement ceremony in the morning and a pair of informal "drive-thru" gatherings later in the day.
The Edgefield County charter school, like most schools around the country, had its academic year radically shortened due to the coronavirus outbreak and ensuing national lockdown. May 28′s gatherings were reportedly designed to allow each senior the chance to receive his or her diploma and get a round of applause while still showing plenty of respect for restrictions and guidelines in response to the ongoing pandemic.
This year's top honorees included valedictorian Josh Hughes, who is planning to focus on political science at the University of South Carolina; and salutatorian Eliyana Brown, who is looking to study psychology at USC Aiken. The morning event was held in the gymnasium, with a relatively traditional layout, and about half of this year's senior class on hand, along with dozens of family members and other well-wishers in attendance. Chairs were spaced out, due to the medical risk, and face masks abounded.
Two afternoon gatherings, held in the main parking lot, had seniors arriving – in vehicles ranging from small cars to stretch limousines – in a highly decorated procession with such features as balloons and bubbles, along with an upbeat soundtrack coming through speakers near the procession's end point. Each graduate took a couple of minutes to step into a shaded tent, walk across a stage and receive his or her diploma from the principal, Josh Trahan, with family members and other well-wishers standing a few yards away, with permission to cheer as much as they wanted – a departure from a traditional ceremony, where audience members are usually asked to refrain from making a racket until all graduates have been recognized.
Among the new graduates was Caleb Vaughn, who was on hand for the morning gathering and gave it a thumbs-up review. He had his maternal grandfather in the crowd, visiting from Tennessee.
"He said it was the best graduation that he'd ever sat through, just because it was so quick," Vaughn said. "We were done in just over an hour."
He also commented on his classmates' responses to the unusual graduation offerings. "They all said that it was terrible that we didn't get the traditional thing, but they're glad that we at least got something," said Vaughn, who was the captain of the boys soccer team at Fox Creek this year and said he is planning to pursue a job either at the Savannah River Site or Bridgestone.
This year's Fox Creek graduates, numbering 149, began (alphabetically) with Ana Albornoz, Alina Arashiro and Shay Arsenault and wrapped up with Alyssa Wood, Jackson Wray and Haleigh Yount.