'Based on a lie': Delta CEO blasts Georgia's 'unacceptable' voting law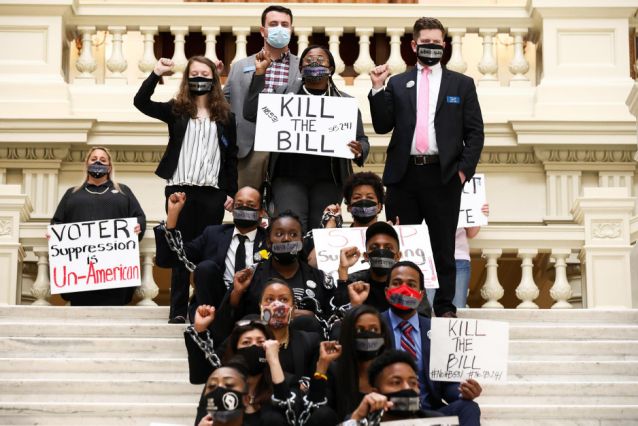 GEORGIA – CEOs for Delta Airlines and Coca-Cola came out in strong opposition to Georgia's recently passed voting law on Wednesday, both calling the law "unacceptable."
On Wednesday morning, Delta CEO Ed Bastian said in a memo to employees that the law is "unacceptable and does not match Delta's values."
"Let me be crystal clear and unequivocal, this legislation is unacceptable," Coca-Cola CEO James Quincey said later that day on CNBC.
In the week since a sweeping package of election restrictions was signed into law by Republican Gov. Brian Kemp, activists have threatened to boycott Delta and other Atlanta-based companies, saying they didn't do enough to stop the law from being passed.
Delta's statement,which the company shared with NBC News, is a forceful repudiation of the Georgia law — and similar efforts around the country.
"After having time to now fully understand all that is in the bill, coupled with discussions with leaders and employees in the Black community, it's evident that the bill includes provisions that will make it harder for many underrepresented voters, particularly Black voters, to exercise their constitutional right to elect their representatives. That is wrong," the memo reads.
Quincey said the company had opposed the bill from the start and had lobbied against it.
"Our position remains the same: This legislation is wrong, it needs to be remedied, and we will continue to advocate for it both in private and now, even more clearly in public," he said.
Dozens of Black business leaders publicly urged corporations to oppose voting restrictions in a public letter on Wednesday. The New York Times first reported the letter.
In an interview with NBC News, one of the leaders of the effort, Kenneth Chenault, said issuing statements isn't enough.
"We are saying that companies need to directly and publicly oppose this legislation. And they need to bring their resources and capabilities to influence the elected officials," Chenault, former CEO of American Express, said Wednesday. "It's not enough to issue a general statement and say, 'We believe in fair elections.' The issue is, what do you say in Georgia? Florida? Indiana? You have to publicly oppose it and you have to bring your resources to bear to try to effectuate the right outcome."
Merck CEO Kenneth Frazier, who spearheaded the effort with Chenault, said that it is important for these corporations to speak out now — lest Georgia's law become a "prototype" for others around the country. But he cautioned against activism focused solely on Georgia-based companies.
"While those companies are headquartered in Georgia, we all have an interest in whether people in Georgia can vote. We all do business in Georgia," he said.
Bastian suggests that Delta could get involved in future voting legislation fights, too.