What Is Happening With Voting Bills In Georgia?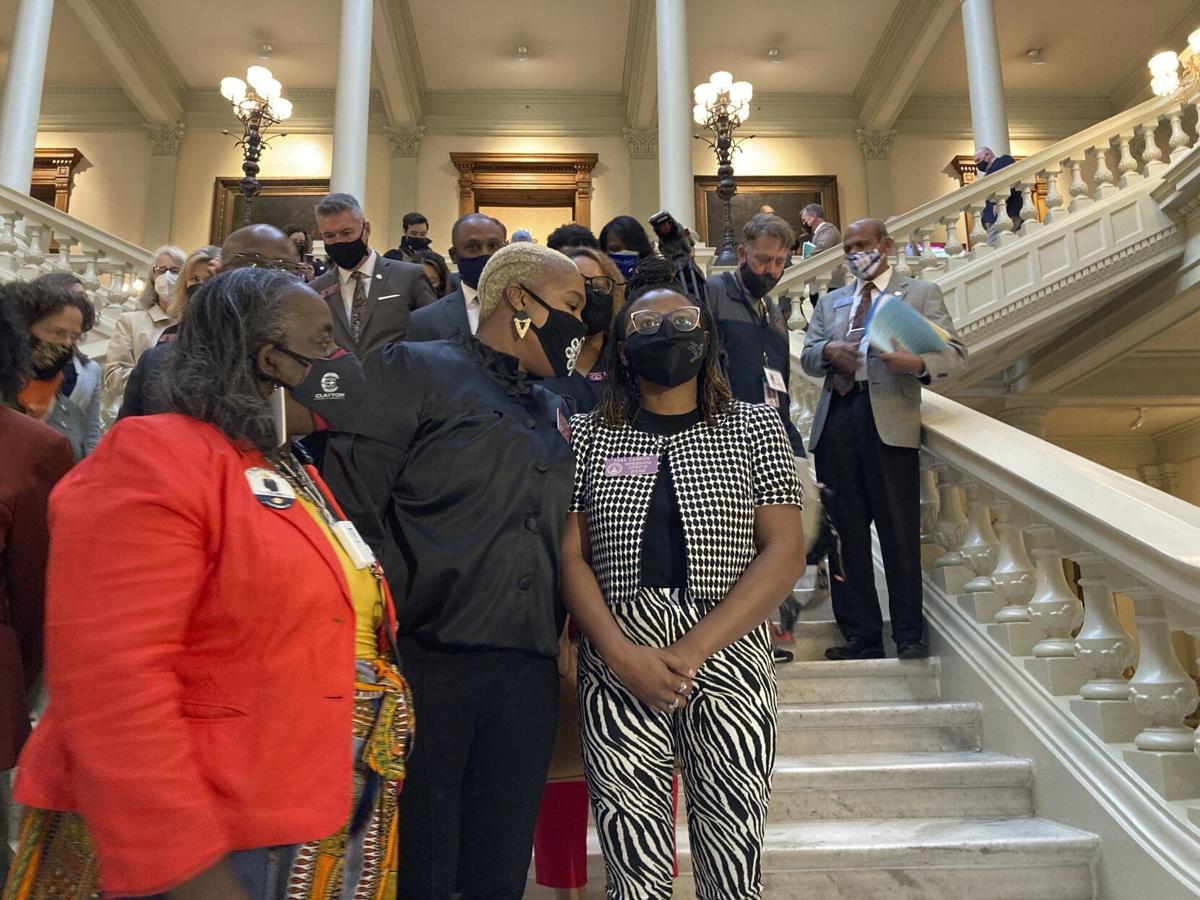 GEORGIA – Secretary of State Brad Raffensperger touts Georgia as a leader in elections thanks to no-excuse absentee voting, generous early voting laws and automatic voter registration. But those policies are in jeopardy as fellow GOP lawmakers seek to avenge former President Trump's loss.
Nearly 80 voting-related bills and resolutions have been filed in the Georgia General Assembly so far in the 2021 legislative session, including two omnibus measures that would drastically alter the way Georgians vote. This follows the 2020 election cycle, which saw unprecedented turnout, the rollout of a new ballot-marking device voting system and the coronavirus pandemic that overwhelmed local officials and drastically increased the number of absentee ballots.
But Democrats also won the state's 16 electoral votes and flipped control of the U.S. Senate by winning both seats in a January runoff, and many Republicans embraced false claims of systemic voter fraud following former President Trump's defeat. In the Georgia Senate especially, lawmakers have called for draconian changes to GOP-backed voting laws that would make it harder for many people to vote, especially non-white voters in larger counties.
Gov. Brian Kemp, House Speaker David Ralston and Lt. Gov. Geoff Duncan have all expressed support for moderate changes voting laws that add security to voting by mail but have distanced themselves from more extreme measures that would limit voter access and jeopardize Republicans' chances in what will be a hotly contested 2022 race.  Not every bill will make it out of committee, but as the session passes the halfway point some trends have started to emerge.
On the House side, HB 531 contains more than 60 pages of proposals to change everything from in-person early voting days to absentee drop boxes and has faced pushback for provisions that would eliminate a Sunday voting day popular with Black voters via "souls to the polls" initiatives. Republicans in the state Senate have already begun walking back some of the measures in SB 241, which would give Georgia some of the strictest absentee voting laws in the country.
Absentee Voting
The biggest cause of controversy after the 2020 election comes from Georgia's no-excuse absentee-by-mail voting method, enacted by Republicans in 2005 and not used by very many voters until the 2018 governor's race, when Democrat Stacey Abrams made absentee turnout a cornerstone of her campaign. The 223,000 mail-in ballots cast in that election were dwarfed by November 2020, when more than 1.3 million of the five million votes were absentee.
County elections officials were overwhelmed with the exponential growth in requests and ballots while also running three weeks of in-person early voting and Election Day voting.
The most extreme remedy is in SB 241 (for now), which would limit eligibility to vote by mail to those who are disabled, 65 or older, required to be absent while in-person voting occurs and a few other excuses. Senate Majority Leader Mike Dugan, who cosponsored the bill with all but three Senate Republicans, said it would relieve an "undue burden" on elections officials tasked with handling both mail-in and in person voting. But that change is not supported by other GOP leadership and may be removed from the bill.
The most likely change to absentee voting lies with the application process. Currently, Georgia is one of 19 states that verifies applications using a voter's signature, and an audit of thousands of Cobb County applications found only two questionable signatures after claims of fraud. But the Senate has approved SB 67, which would require a driver's license number or state ID number to be included with a paper application, just like what is required for a new online absentee request portal launched during the pandemic.
In the House omnibus bill, voters would have to include their driver's license number, state ID or last four digits of their Social Security number on the ballot envelope when they return it — though the envelope would be designed to cover that information until election workers process the ballot.
Also in HB 531, the earliest you can request an absentee ballot would shrink from 180 days before the election to 78 days, and the deadline would be two Fridays before election day instead of one. County elections officials have expressed support for this change that would also cut down on the possibility of ballots coming in after the deadline when polls close.
Absentee ballot drop boxes would continue to be allowed, but only under certain conditions. Counties could only place them inside the elections office or inside early voting locations, they would only be open during in-person early voting hours. Every county would be required to have at least one drop box, but no more than one per 100,000 active voters or one for each early voting site, whichever is fewer.
Runoffs
The House omnibus would shorten Georgia's runoff period to four weeks instead of nine, in part by giving military and overseas voters ranked-choice instant runoff ballots for primary and general elections. On those ballots, the voters would rank their choices for contests if they went to a runoff and return it along with their regular ballot. If any of the races did go to a runoff, then those ballots would be opened and counted based on the highest-ranked candidate on the runoff ballot.
Federal law currently requires states send out absentee ballots to military and overseas voters 45 days before the election, which is why Georgia runoffs are longer. Arkansas, Alabama, Louisiana, Mississippi and South Carolina currently have this instant runoff system in place for those voters. A similar standalone House bill has bipartisan support.
Ballot Counting And Processing
The election is never over once election night passes, because of provisional ballots, military and overseas votes, absentee adjudication and other processes counties must complete before certifying results. Because of the crush of absentee ballots and the razor-thin margin of the presidential race, results took longer to come in last year, and lawmakers have several ideas on how to make things faster.
SB 40, sponsored by Democratic Sen. Jen Jordan, would require counties to begin processing absentee ballots the week before election day, which does everything but tabulate who the actual votes are for. It cleared the Senate unanimously.
One Senate bill that cleared the chamber would require counties to delay reporting election results until they could post the total number of votes cast in the election, while another would shorten the time after an election local officials have to enter in credit for all the people that voted.
In the Senate's omnibus measure, several sections would require poll workers to count and report election results without stopping, which could be an easier task when paired with SB 40 requiring earlier absentee processing.
Early Voting
The House omnibus measure would make changes to how the three-week early voting period in Georgia works. HB 531 originally mandated every county have the same voting days  (Monday through Friday for three weeks plus one Saturday) and hours (9 a.m. to 5 p.m., or 7 a.m. to 7 p.m.) and would effectively ban Sunday voting, popular with Black voters and churches that hold "souls to the polls" events.
In the latest version, counties would have the option of picking the first Saturday or first Sunday as an additional weekend day, though it still hampers larger, Democratic-leaning minority-heavy counties that use the maximum number of days to accommodate large throngs of voters.
Voter Registration
Some Republicans want to get rid of Georgia's automatic voter registration law, also known as the "motor voter" law that updates or creates a voter registration when people interact with the Department of Driver Services, unless they opt out. SB 69, sponsored by Rules chairman Sen. Jeff Mullis, would require Georgians to opt in to the system, which is responsible for processing more than 5 million of the state's 7.6 million registrations.
Other Changes
Republican lawmakers also want to make a number of changes to how state and local officials administer elections. The omnibus House bill would ban county elections boards or supervisors from receiving outside funding (presumably it could go through the county commission or state), allow poll workers to serve in counties adjacent to where they live and give counties flexibility in putting out voting equipment for lower-turnout races.
Large polling places that have consistently long lines would have to hire more staff, include more voting machines or be split up into smaller sites. The House proposal would also require counties to more prominently announce the logic and accuracy testing of equipment before each election.
Because the Census results are delayed, a provision in HB 531 would keep existing municipal election boundaries for a little while longer until new maps are drawn.
Several bills, including both omnibuses, would seemingly prevent Fulton County from using two early mobile voting buses that helped mitigate lines.
The Senate has also approved a measure that would create an elections assistance officer within the secretary of state's office that would work with local boards and supervisors on training, identify low-performing boards or supervisors and outline a way to punish or replace them. The Senate omnibus includes language that would give a county's legislative delegation the ability to temporarily strip powers from those boards or supervisors and appoint someone else.
Finally, both House and Senate Republicans have introduced bills to limit the secretary of state's powers and the State Elections Board's authority. One proposal would remove the secretary of state as chair of the SEB and replace the chair with an appointee of the governor that is confirmed by the legislature. Others would curb the emergency rulemaking powers of the SEB and prevent it from entering into any sort of legal settlement agreements over voting laws.
What does Georgia's top election official think about all of these proposals? Raffensperger has largely stayed on the sidelines after the 2020 election cycle saw him stand up to Trump's pressure to overturn the election and push back against conspiracy theories and false claims of voter fraud about Georgia's thrice-counted election results. But in a statement first sent to GPB News, the secretary of state's office declined to endorse any of the major measures working their way through the legislature.
"Once we see something that prioritizes the security and accessibility of elections, we'll throw in support," he said. "At the end of the day many of these bills are reactionary to a three-month disinformation campaign that could have been prevented."