Joe Biden to Travel to Georgia Thursday to Celebrate His First 100 Days in Office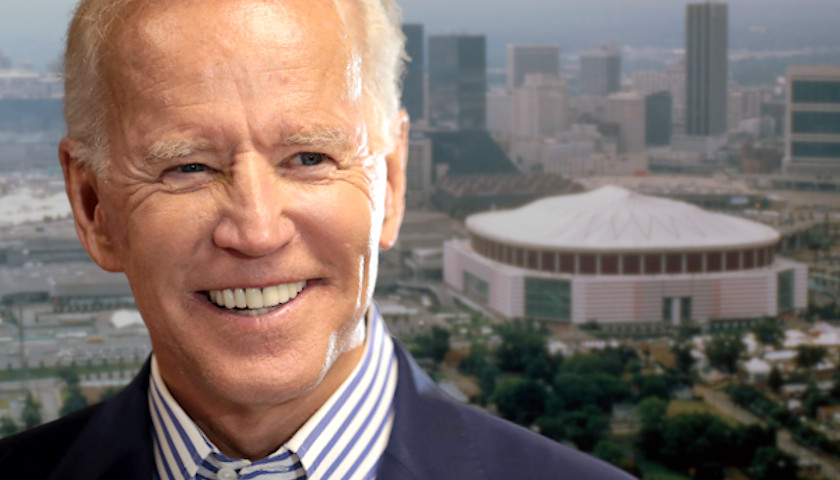 GEORGIA – U.S. President Joe Biden is scheduled to travel to the Atlanta area Thursday to celebrate his first 100 days in office.
This, according to a press release that Georgia Democrats posted on their website this week.
Georgia Democrats said they have erected a billboard to mark the occasion.
"Today, Democrats rolled out a new billboard in Atlanta thanking President Joe Biden for getting Georgia and the nation back on track with vaccines in arms, checks in hands, and more than one million jobs created since he took office," according to the Georgia Democrats' press release.
"The new billboard, located west of I-85 on Camp Creek Parkway, will reach people traveling towards Hartsfield-Jackson Atlanta International Airport. It comes ahead of President Biden's visit to Georgia on Thursday to mark his first 100 days in office alongside the voters and activists who helped elect him and Vice President Kamala Harris, and secured the Democratic Senate majority."
U.S. Rep. Austin Scott (R-GA-08) this month blasted Biden for ending the Farmers to Families Food Box Program, which Scott described as popular.
Former U.S. President Donald Trump and former Georgia Gov. and former U.S. Secretary of Agriculture Sonny Perdue put the program in place last year to help farmers during the COVID-19 pandemic.
Scott appeared on Newsmax and said that under the program the USDA buys fresh fruits, fresh vegetables, and dairy products directly from farmers.
Scott said that Biden and members of his administration ended the program only to spite Trump.
Late last year, before taking office, Biden reportedly didn't want civil rights leaders to discuss defunding the police until after the Georgia U.S. Senate runoffs had concluded. This, for fear that such rhetoric would scare off Georgia voters and prevent Democrats from controlling the U.S. Senate.
"I also don't think we should get too far ahead of ourselves on dealing with police reform in that, because they've already labeled us as being 'defund the police'…Anything we put forward in terms of the organizational structure to change policing — which I promise you, will occur. Promise you. Just think to yourself and give me advice whether we should do that before Jan. 5."