'It feels very free': Vaccinated residents ease into normalcy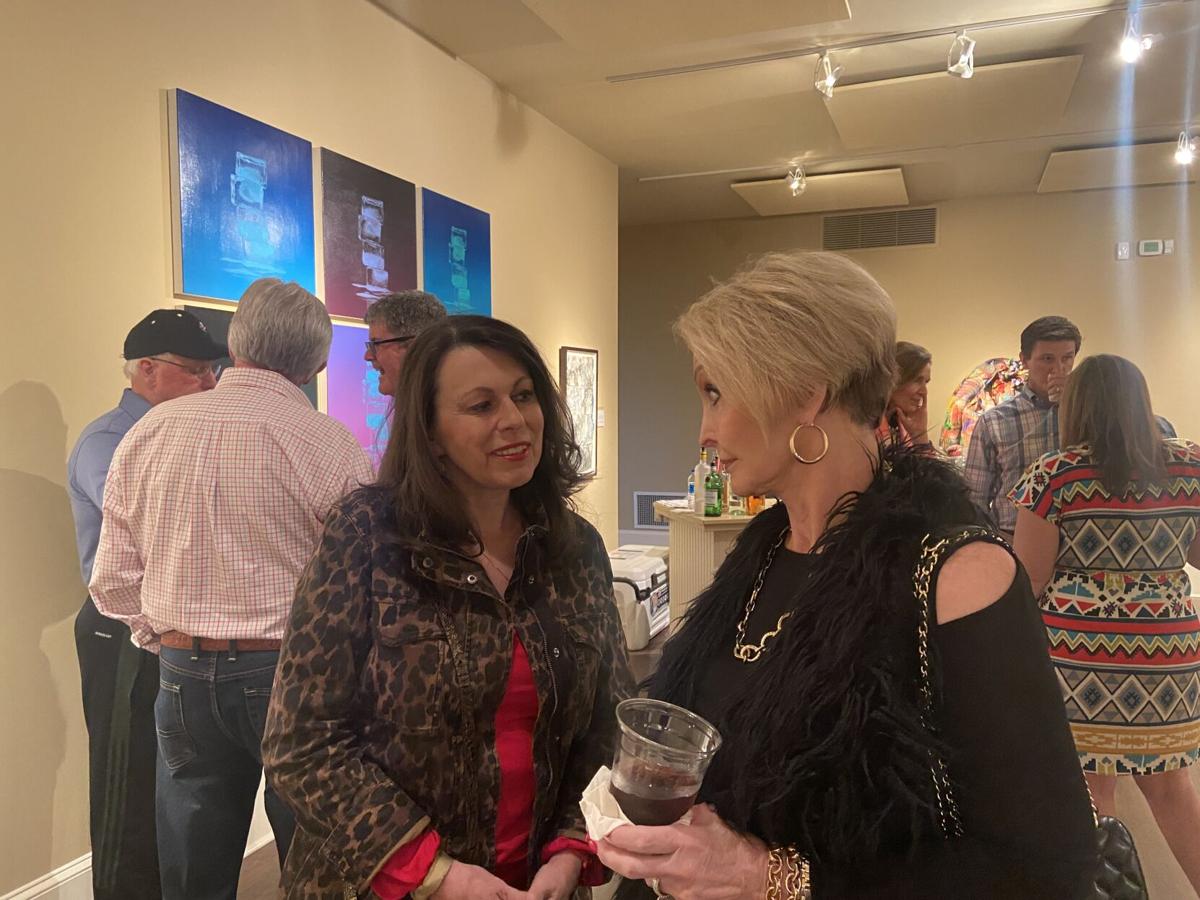 MARIETTA, Ga. — When the pandemic hit, Atlanta's Susan Dugas, like most people, hunkered down, staying inside "all the time."
That's about to change. Now that she's fully vaccinated, Dugas has plans on flying to and hiking in Iceland this summer, and hopes to get back into her favorite pre-pandemic activity, ballroom dancing, within weeks.
Dugas was one of several people at Glover Park Friday who shared their post-vaccination plans with the MDJ. For the most part, the fully vaccinated said they were easing into normal life, eager to jump back into pre-pandemic activities but wary of people in their orbit who have not been vaccinated and mindful of public health warnings about emerging variants and the need to reach herd immunity.
As of Friday afternoon, almost 2.9 million Georgians — about 28% of the state's population — have been fully vaccinated, according to the state Department of Public Health. More than 3.7 million, or 36%, have received at least one dose of the federally authorized coronavirus vaccines. Nationwide, those numbers are 33% and 45%, respectively, according to the Centers for Disease Control and Prevention. People are not considered fully vaccinated against the coronavirus until they are two weeks removed from the single-shot Johnson & Johnson vaccine or from their second shot of the vaccines made by Pfizer and Moderna.
Rising vaccination rates have led to the general sentiment the end of the pandemic in the United States is nigh, a notion public health officials say is premature. Nevertheless, expected economic growth this year is explosive, and economists were surprised the country's unemployment rate rose in March, according to data released Thursday.
Roger Tutterow, an economist with Kennesaw State University, calls this the "third wave" of the coronavirus reopening.
"As we're getting more individuals vaccinated, you're going to see more and more people that are willing to return toward pre-pandemic behaviors," he said, "and where you're going to see it the most, I think, is in terms of people going to restaurants, retail establishments. You're beginning to see some uptick in terms of people that are flying."
The state's leisure and hospitality industry had gained back 144,000 of the 223,000 jobs lost to the pandemic by March of this year, 65% of the total, according to the Georgia Department of Labor.
"We're picking back up," said Mark Jaronski, the deputy commissioner at the Georgia Department of Economic Development in charge of the agency's tourism division. "The vaccine rollout has had the most positive effect on our visitation."
To help complete the recovery, the state has launched a new marketing campaign aimed at the pent-up demand for travel on the part of pandemic-weary Americans.
The campaign conjures up the image of a sprinter coiled at the starting line. Instead of "Ready. Set. Go," the slogan is "Ready. Set. Georgia."
Friday evening, the Marietta Cobb Museum of Art hosted its first event since February 2020.
Sally Macaulay, the museum's executive director, said she decided to reopen given rising vaccination rates and the decision of other major entities, like the Atlanta Braves, to reopen as well.
As she perused the exhibit, Stephanie Robertson said it was her first event since the pandemic began where she did not wear a mask. It was exactly two weeks since her second dose of a coronavirus vaccine.
"I just wanted to focus on being out instead of focus on being safe," she said. "It feels very free."
The CDC has created a webpage titled "When You've Been Fully Vaccinated" that lists activities it deems safe and those that it still considers risky.
In short: The fully vaccinated can forgo coronavirus protocols such as masking and social distancing when outside or around others who have been vaccinated. The organization still recommends that people who have been vaccinated avoid crowded indoor events and mask up when around other, unvaccinated people or strangers indoors.
Dr. Danny Branstetter, an expert on infectious disease at Wellstar Health System, said there are a number of factors that determine how safe certain events are, even for the fully vaccinated.
While rare, there have been so-called "breakthrough" cases of fully vaccinated people catching the coronavirus and dying from it, he said.
"Those people who are at highest risk to have a complication from COVID-19 still need to take precautions," he said. It is "fairly safe" for a young, healthy person who has been fully vaccinated to go to an indoor bar, he said. For an older person with underlying medical conditions? Perhaps not, though the exact risk such a person would take by going to an indoor bar is still unknown to public health experts, Branstetter added.
Public health officials have said the world can end the pandemic by achieving herd immunity, a level of community-wide immunity that makes it impossible for the virus to spread widely, effectively protecting the entire population.
Branstetter believes the herd immunity threshold hovers around 80%. Like other public health officials, he is increasingly skeptical the United States will get there.
"Without a mandate, we won't reach it. There's too much resistance," he said. "And that's historically been true of all vaccines. So until it's mandated either for kids in school, or workplaces … we don't reach herd immunity without mandates. And that's unfortunate."
About 45% of Americans have received at least one dose of a coronavirus vaccine, according to the CDC. Many more have natural immunity from having caught the virus. But that doesn't mean the country is nearing the herd immunity threshold, Branstetter said.
"Just because you've had natural infection does not mean you have the same immunity as somebody who's been vaccinated," he said, adding that that is especially true of people who have had asymptomatic or mild cases of COVID-19. "We cannot include every positive person who's had a diagnosed infection as protected. That would be a false sense of security. … Are we better than 40% (immunity)? Yes. Is it another 40%? No."
Marietta resident Jerry Griffies sat on a bench in Glover Park Friday with his Maltese, Thumper, enjoying the balmy weather. He received his second shot of a coronavirus vaccine six weeks ago.
When the pandemic hit, he and his wife stopped attending family gatherings, instead keeping in touch with relatives over the phone and Zoom. They stopped traveling on weekends and attending funerals as well.
Nowadays, he is comfortable outside without a mask on, though he puts one on when interacting with people indoors. He's been to family gatherings, including a recent indoor funeral attended by more than 150 people.
"Did I have the mask on? It seems like I did," he said, trying to recall whether he had masked up at the crowded indoor event. "I think I probably did because I'm kind of a stickler on that."
Fred Williams of Powder Springs and his nephew, Benjamin Holman, both said they pine for their pre-COVID lives. Williams is fully vaccinated. Holman is scheduled for his second dose later this month.
Holman will be a high school senior next year, and can't wait to get back into wrestling, which he had to give up during the pandemic. The past year has been profoundly isolating, he said, as he struggled to socialize with schoolmates virtually.
"I held back talking to people," he said, "getting close to them. It was basically, almost, antisocial."
Williams too lost much of his social life — there's been no church, no bars. He had to cancel his gym membership.
"This whole thing's been depressing, man," he said, sitting next to his nephew on a bench in Glover Park. Nevertheless, he doesn't want to "rush" back into pre-pandemic life, citing variants of the virus that are more transmissible and against which available vaccines are less effective, if only slightly.
"Vaccinated people don't worry me much," Dr. Janet Memark, head of Cobb-Douglas Public Health, said Friday. "I worry about those who choose not to get vaccinated and those who can't get vaccinated for various reasons. The more people we can vaccinate, the better chance we have to protect the young and those with medical conditions that put them at risk for bad outcomes from COVID-19."
Marietta resident Rita Baylor said she wouldn't get the coronavirus vaccines because she has always had allergic reactions to vaccines. The CDC recommends those who have had past allergic reactions to vaccines forgo the coronavirus vaccines.
"I'm not saying it's not good," she said.
But Baylor doesn't plan on holding back. She said the United States has been through worse, and that people should not let their fear of the virus prevent them from living life, vaccinated or not.
"Look, people are out here with their kids," she said, gesturing across Glover Park. "The fear is dying down."
Branstetter said Wellstar can offer on-site vaccinations in a bid to boost inoculation rates. Although many who are vaccine hesitant either think they do not need to get vaccinated or do not trust what they believe was a rushed product, he said, others simply don't care enough to go out of their way to get one. He encouraged business owners and other community leaders to reach out to the health system to ask about on-site vaccinations for their workers or communities.
Branstetter said he has been fully vaccinated, but has remained cautious. He has not dined indoors or gone to large gatherings, though he has spent time around others who have been vaccinated as well.
As Griffies, he just wants everything to go back to normal.