Grassley slams MLB's All-Star Game move out of Georgia as 'economic terrorism'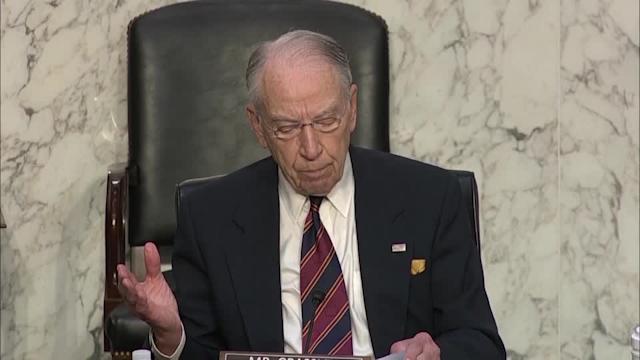 GEORGIA – Sen. Chuck Grassley slammed Major League Baseball on Tuesday over the league's decision to move its All-Star Game out of Georgia for political reasons.
"When partisans and companies collude to ruin the livelihoods of their opponents, there's a term for that: It's economic terrorism," the Iowa Republican said during a Senate judiciary hearing on election integrity and voting rights.
Major League Baseball announced last month that the All-Star Game would not be held in Georgia due to a controversial election integrity bill passed in the state that Democrats have insisted blocks access to voting, especially in minority communities, and that the commissioner said doesn't align with the "values" of the league.
Grassley pointed out that several claims from Democrats about the voting law have been strongly contested, including an often repeated statement from President Joe Biden that it slashes polling hours and early voting, which the Washington Post awarded four "Pinocchios."
"There's a lot of falsehoods being peddled about the new Georgia law," Grassley said during the hearing. "When President Biden repeatedly said that Georgia ended voting hours early, the liberal Washington Post gave him 'four Pinocchios.'"
In the Washington Post fact check, the author also pointed out that the Georgia law actually expands early voting rather than restricting it.
It has been estimated that Georgia will lose roughly $100 million in revenue as a result of baseball's decision to move the game, and several small-business owners have echoed Grassley's concerns about the negative repercussions of causing economic disruption for political reasons.
"The $100 million in revenue to this area was going to be the opportunity for all of us to recover some of the losses that we incurred during the pandemic," Darrell Anderson, a black small-business owner in Atlanta, said earlier this month. "Now, not only is that revenue gone, we may lose even more because conventions that were planned for Atlanta are now up in the air, thanks to this decision by the MLB."
Alfredo Ortiz, the president of a small-business advocacy group, sent Commissioner Rob Manfred a letter explaining that he was hurting minorities, the group that the league insists it is protecting, by taking that revenue from minority communities.
"Your decision is punishing the very group you claim to be defending," Ortiz wrote to Manfred. "Small businesses in Georgia are hurting and you pulled a multi-million dollar rug out from underneath them. … Don't let activist groups weaponize America's pastime to push radical ideas that MLB fans don't support."