Georgia: Nation mourns and honests the victims of the deadly shootings inside massage parlors in Atlanta and Cherokee County.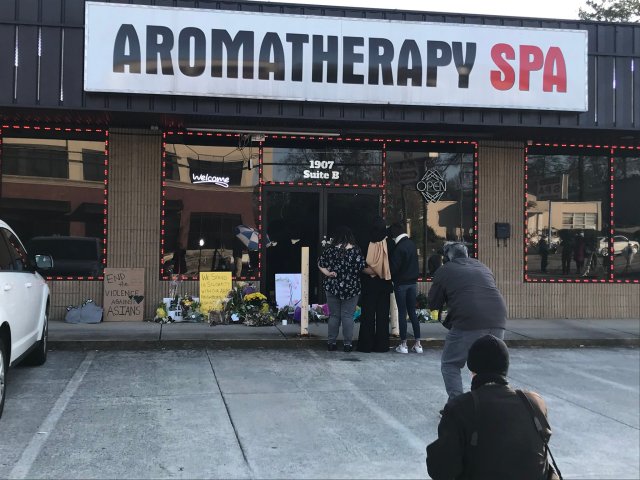 GEORGIA – The nation mourns and honests the victims of the deadly shootings inside massage parlors in Atlanta and Cherokee County that occurred on Tuesday, March 16th, 2021.
Authorities say eight people were killed in the deadly shootings at three separate massage parlors in Atlanta and one was in Cherokee County; including six of the eight victims were Asian descent.
The four people who were killed in the deadly shooting in Atlanta have been identified by the Fulton County Medical Examiner as 74 year old Soon Chung Park; 51 year old Hyun Jung Grant; 69 year old Suncha Kim; and 63 year old Yong Ae Yue.
– Hyun Jung Grant loved karaoke, dancing, disco and club music, often strutting or moonwalking while doing household chores and jamming with her sons to tunes blasting over the car stereo.
According to her son Randy Park, Hyun Jung Grant made the world's best kimchi stew, a Korean dish that is made with kimchi and other ingredients, such as pork or seafood, scallions, onions, and diced Dubu.
– Yong Ae Yue was a licensed massage therapist, loved cooking for family and friends, always ensuring her sons' friends were well fed when they visited, and went out of her way to make sure others were cared for.
The following statement is from the family of Yong Ae Yue and issued by their counsel, Alston and Bird partner BJay Pak, "We are the sons of Ms. Yong Ae Yue, one of the victims of the recent tragic shootings that occurred this past week. We are devastated by the loss of our beloved mother, and words cannot adequately describe our grief. To all those who have reached out to provide support and words of encouragement, thank you. At this time, since the case has garnered so much attention, we are asking that the media and the public to please respect our family's privacy while we grieve and while we make arrangements for our mother's funeral. We will be making another statement at the appropriate time. Until then, please direct any inquiries to our attorney. Thank you."
The four people who were killed in the deadly shooting in Cherokee County have been identified by authorities as 33 year old Delaina Ashley Yaun of Acworth; 54 year old Paul Andre Michels of Atlanta; 49 year old Xiaojie Tan of Kennesaw; and 44 year old Daoyou Feng.
– Xiaojie Tan owned Young's Asian Spa and one other in Acworth, Georgia, went by her American name Emily, was a recent University of Georgia graduate, and was a curious, hard-working and caring woman who was always filled with joy.
Xiaojie Tan is survived by her daughter and would have turned 50 on Thursday.
– Delaina Ashley Yaun and her husband have been married less than a year, and she leaves behind a 13 year old son and 8 month old daughter.
Family members said the couple were first-time customers, eager for a chance to unwind and relax.
– Paul Andre Michels is a Michigan native, owned a security system installation business in Atlanta, where he and his wife Bonnie for more than 25 years, and had expressed interest in owning a spa.
Paul Andre Michels' brother John Michels said Paul grew up with nine siblings in Detroit, riding dirt bikes and spending summer weekends at a lake and getting into mischief together.
Both Paul and John served in the U.S. Army at the same time, and his brother was an infantryman in the late 1980s.
A man was shot and injured at Young's Asian Massage has been identified as 30 year old Elcias Hernandez-Ortiz, who is set to have surgery as early as next week to remove the bullet in his abdomen.
Authorities say the suspect, identified as 21 years old Robert Aaron Long from Woodstock, was arrested in Crisp County, Georgia after Cherokee officials released surveillance pictures of shooter and asking the public for help locating him.
According to Captain Jay Baker with the Cherokee County Sheriff's Office, that shooter took responsibility for the shootings.
"He apparently has an issue. What he considers a sex addiction and sees these locations as something that allows him to go to these places and it's a temptation for him that he wanted to eliminate," said Captain Jay Baker.
On Wednesday, the shooter has been charged with eight counts of murder and homicide and one count of aggravated assault.
Although authorities in Atlanta have not changed the shooter with a hate crime, many commentators have characterized the shootings as a hate crime, noting the backdrop of rising anti-Asian sentiment in the United States during the COVID-19 pandemic and how intertwined racism and misogyny are for Asian women.
According to the Stop AAPI Hate, a California based reporting center for Asian Americans and Pacific Islanders, nearly 3,800 instances of attacks – both verbally and physically – against Asians between March 19, 2020, a week after the COVID-19 pandemic was declared, and February 28 of 2021.
An analysis released by the Center for the Study of Hate and Extremism at California State University, San Bernardino, pointed to the 150% increase in hate crimes against Asian Americans in 16 U.S. cities during 2020; the hate crimes examined in the study ranged from verbal abuse and vandalization of Asian-owned businesses to physical attacks.
In January 2021, an elderly Thai American man was fatally attacked while walking outside of his home in San Francisco, California.
In early February 2021, a man brutally pushed down three elderly Asian Americans in Chinatown in Oakland, California.
In late February 2021, a man stabbed a 36 year old man of Asian descent in the back in Chinatown in New York City. The victim was sent to the hospital in critical condition and the attack is being investigated as a potential hate crime.
As with many other tragedies, lawmakers and political party groups are trying to pretend or blame the other side, blame both the correct and previous United States presidents for how they handle hate and violence against Asian Americans in the United States.
Well the investigation continues into the deadly shootings and the political back and forth denial and blame game continues in Washington, DC, people across America are remembering and honoring the victims, and raising awareness about hate and violence against Asian Americans.
Following the deadly shootings, vigils and moments of silence were held in cities across the country, including in Orange County, San Francisco, Oakland, Sacramento in California; Downtown Phoenix, Arizona; Pennsylvania, Washington D.C.; Milwaukee, Wisconsin; New York City and Queens in New York; and Washington, to remember and honor the shooting victims and to bring awareness to discrimination against Asian Americans, with more vigils as well as marches planned in the upcoming days and weeks.
There have also been people helping and protecting Asian Americans against hate and attacks.
In Ladera Ranch, California, neighbors stand guard protecting a home of an Asian American family who have been harassed and attacked with racial slurs for months.
In New York City, New York, Safe From Hate is distributing personal safety alarms to Asian Americans and immigrants to protect them from a recent surge of racially motivated violence. Safe From Hate has donated 3,000 handheld alarms that emit an extremely loud noise to shock and disorient attackers while calling attention from bystanders and law enforcement officials.
ZachNews and the community sends our thoughts, prayers and condolences to all for the family and friends of the victims in the deadly shootings inside massage parlors in Atlanta and Cherokee County.