Georgia governor to sign more economic and business bills into law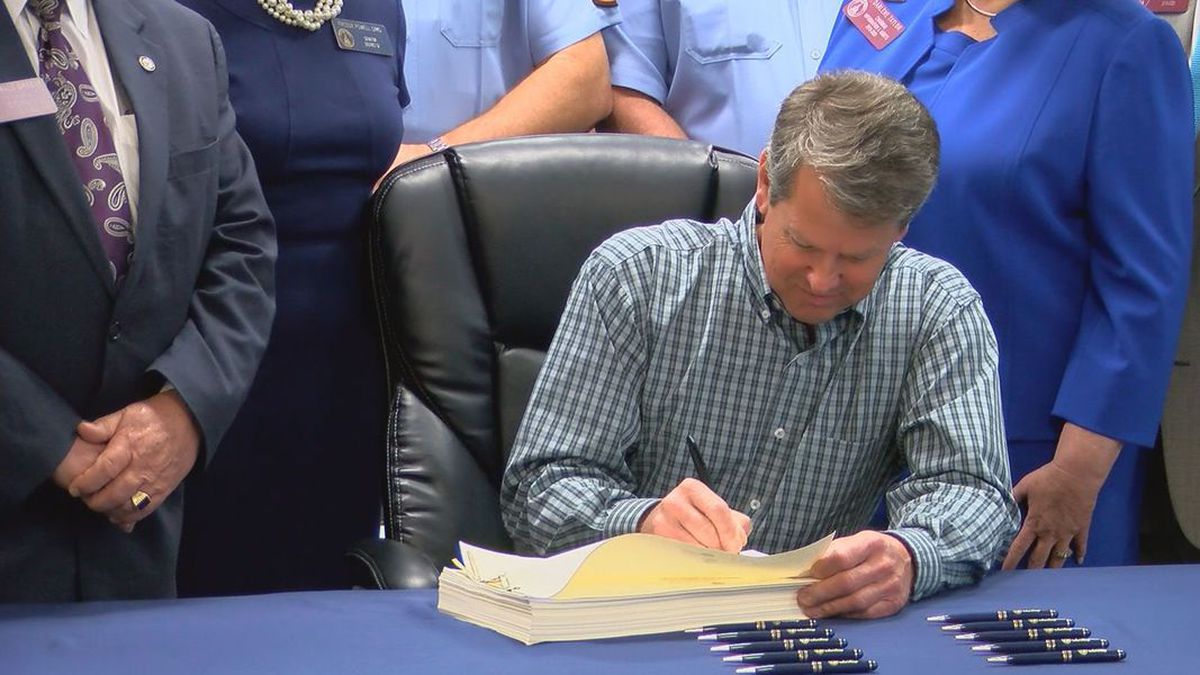 GEORGIA – Georgia Gov. Brian Kemp on Tuesday signed SB 88, the teacher pipeline legislation designed to recruit, retain, and equip educators in the Peach State.
"As the dad of a future educator, I understand how important it is to empower our teachers so they can invest in the next generation of Georgians, and that's why I'm proud to sign SB 88 into law," Kemp said. "In an unprecedented school year, I join all Georgians in thanking educators and school staff for going above and beyond to provide a quality education, nutrition, and learning resources to their students."
Kemp signed the bill at Kennesaw State University.
Also on Tuesday, he signed a bill praised by the Georgia Charter Schools Association.
Under Senate Bill 59, students enrolled in Georgia's locally approved public charter schools will receive a dedicated funding weight that increases school allocations by approximately $100 per pupil. Additionally, SB 59 requires school districts to provide locally approved charter schools their proportionate share of federal funding. The bill also allows charter schools multiple opportunities to opt into the State Health Benefit Plan. Previously, state and local charter schools had only one chance to sign up during their first year of operation.
Also on Tuesday, Kemp signed:
SB 6:
This bill offers tax incentives for job creation and economic development in many sectors of Georgia's economy, including medical manufacturing, high-impact aerospace defense projects, and historic rehabilitation. The bill also ensures greater transparency for tax incentives by allowing both the chairperson of Senate Finance and the chairperson of House Ways and Means to request economic analysis of up to five tax credit programs per year.
SB 49:
This bill codifies a previous executive order Kemp signed. This bill allows builders and contractors to use private professional providers for plan review and inspections immediately upon acceptance of their application by a county or municipality.
HB 451:
This bill allows manufacturers to extend any freeport exemption they claimed in 2020 through the remainder of 2021. The Level 1 Freeport Exemption allows cities and counties to choose, with the approval of their voters, to exempt some personal property of manufacturers from taxation for 12 months. Kemp's office said this bill will ease the tax burden on Georgia manufacturers as they continue recovering from the economic impact of COVID-19.
HB 611:
This bill allows for a tier-based approach toward defining Georgia small businesses, enables data sharing between state agencies, and codifies a definition for a startup in Georgia laws.
HB 327:
This bill creates the criminal offense of organized retail theft for organizing, planning, financing, directing, managing, or supervising one or more individuals to steal property from a retail establishment.
HB 149:
This bill allows partnerships and S corporations in Georgia to make an annual, irrevocable decision as to whether they will pay their state income taxes at the entity level rather than the shareholder or partner level.