Augusta University Medical Center dedicates memorial to nurse who died of COVID-19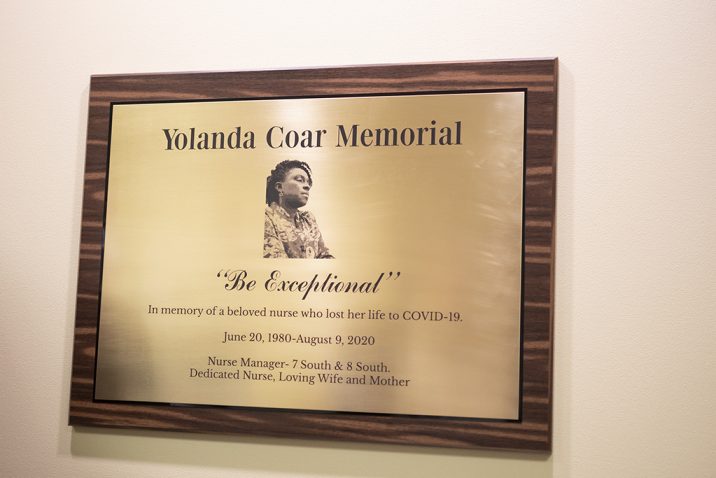 AUGUSTA, Ga. – On April 19, medical staff came together on the second floor of Augusta University Medical Center to dedicate a memorial to a nurse who spent a decade helping patients with "a big smile and positive spirit."
Yolanda Coar, 40-years-old, was an AU Health nurse manager who died Aug. 9, 2020 after contracting COVID-19.
She was remembered on the national stage during the Democratic National Convention where she was honored in a video memorial with several others who lost their life to COVID-19.
Drs. Alicia Vinyard and Ed Ritter were instrumental in creating the memorial, describing her as the "kind of person that if others weren't aware of her, they needed to be."
"When we learned of her passing, we were in absolute shock," said Vinyard, an assistant professor of surgery in the Department of Surgical Oncology at the Medical College of Georgia and surgical oncologist at the Georgia Cancer Center. "She wasn't a nurse who was quiet, did the bare minimum and just went about her day. She was the nurse who you knew would do an excellent job, communicate well and make sure everything was done right."
Laura Brower, chief nursing officer for Augusta University Health, said Coar was well respected and highly thought of by nurses, technicians, residents, pharmacists, physicians and clinicians within AU Health.
"She not only had a leadership style of excellence, but one of accountability," Brower said. "She held herself and others accountable for achieving their job responsibility over and beyond at all times. Yolanda was a compassionate leader. She cared tremendously about the patients and the employees on her two nursing units. She utilized a servant leadership style as a nurse manager. Yolanda always had a beautiful smile. She was caring, compassionate, dependable, trustworthy, friendly and professional."
Brower also said it was important for everyone to celebrate Coar.
"I think it is important for the faculty, staff and the community to celebrate the work Yolanda did for AUMC, because she spent 13 years of her life as a nurse, taking care of people from this community, consistently giving her strength, knowledge, caring, compassion to ensure the best of care was given to every patient, every encounter, every time," Brower said.