Area II Takes CCI3*-S Team Victory, Area I Tops CCI2*-S in Inaugural Adequan®/USEF Eventing Youth Team Challenge Aiken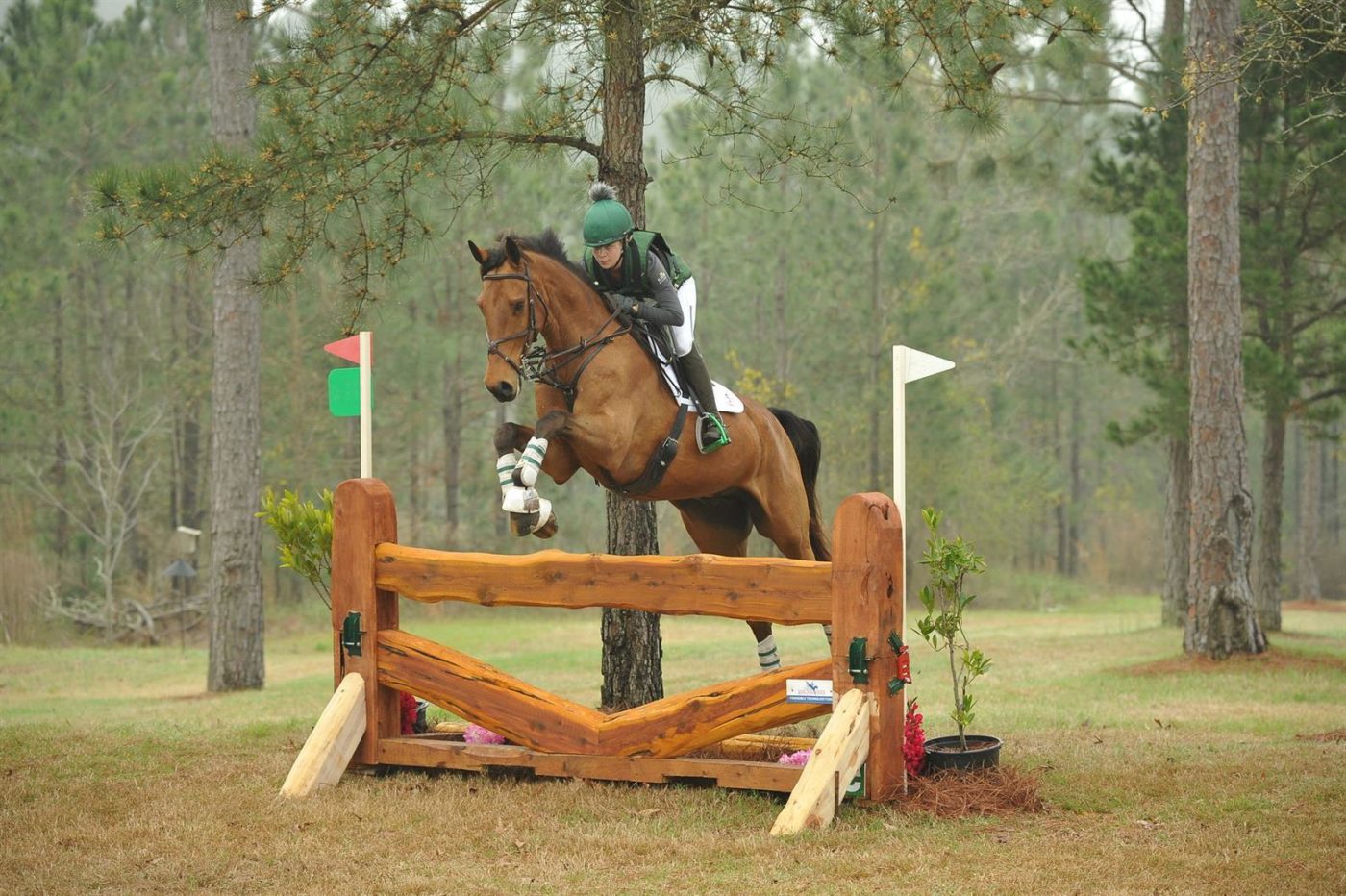 AUGUSTA, Ga. – A total of 29 youth athletes participated in the inaugural Adequan/USEF Eventing Youth Team Challenge Aiken on March 25-27, 2021, at Stable View Farm in Aiken, S.C., representing USEA Areas I, II, III, IV, V, VI, and VIII.
A new USEF Eventing program launched in 2021 as an evolution of the FEI North American Youth Championships (NAYC), the Youth Team Challenge (YTC) mimics the FEI Eventing Nations Cup™ Series by offering youth athletes between the FEI ages of 14-25 the opportunity to compete for their Areas in selected short-format competitions throughout the season, culminating in a long-format Final in the fall on both coasts.
"We were thrilled with the strong response from athletes across seven different Areas to make the inaugural Adequan/USEF Eventing Youth Team Challenge Aiken such a success," said Jenni Autry, USEF Managing Director of Eventing. "The feedback from athletes has been very encouraging, and we will continue to seek ways to promote, grow, and expand this program in its pilot year and beyond. Creating team opportunities for youth athletes is a vitally important component of the Eventing Pathway, and the Youth Team Challenge provides a format for us to facilitate these opportunities."
CCI3*-S Team and Individual Results
The Area II team of Sydney Solomon, 23, (Dayton, Md.) and her own and Leslie Solomon's FE Mactan; Meg Pellegrini, 16, (Wayne, Pa.) and her own RF Eloquence; Isabelle Bosley, 23, (Cochranville, Pa.) and her own Night Quality; and Calli Lipping, 19, (Bethesda, Md.) and her own Wild Affair topped the YTC CCI3*-S podium on a final team score of 148.5. Two double-clear show jumping rounds around Chris Barnard's tough track ultimately boosted the team to victory.
Area IV's team of Greta Schwickert, 22, (Kasota, Minn.) and her own and Jane and Kent Schwickert's Matchless; Kristine Burgess, 22, (Lino Lakes, Minn.) and her own Twoggeron; and Caitlyn Ruud, 17, (Franksville, Wisc.) and Light Speed Equestrian's Up to You de Lorage took second place in the CCI3*-S team results. A scramble team of Area II's Vanessa Stoltzfus, 22, (Lancaster, Pa.) and Teddy Sarc; Area V's Kit Ferguson, 19, (Tulsa, Okla.) and Cilbhrid Tom; and Area IV's Caitlyn Ruud and MGH Heartbeat finished third.
In the individual CCI3*-S YTC standings, Area II's Isabelle Bosley and Night Quality took the top podium spot on a final score of 32.9, which placed them third overall in a large field of more than 50 combinations. Bosley said her clear round inside the time on Capt. Mark Phillips' cross-country course stands out as a highlight of the competition.
"My goal was a good run to prep us for the bigger shows later in the spring. He did a good dressage test and felt super in show jumping. By that point, I knew we were in a competitive spot and thought we would go for the time on cross-country. He was really bold cross-country and gave me a great feeling all the way around. I was thrilled. I wanted to get a good confident run, and it was a cherry on top to have the result we did," Bosley said, adding that she enjoyed competing in a team environment.
"I work for and train with Lillian Heard. The Area II team consisted of my co-worker, Calli, and Meg and Sydney, who are both students of Lillian. We are all close already, so it made it really fun that we were all able to compete together. It gave the weekend a bit of a special feel to it. It's really fun to have the team environment, and it makes the whole show more exciting and makes you more jazzed for all phases because you want to do the best you can for your teammates."
The YTC Aiken was Bosley's first team experience, as she had not previously participated at NAYC."Previously I had never applied for NAYC because it wasn't as affordable and realistic for me, as I needed to be able to work and couldn't be away from home for so long. With this new format, I was able to groom and work for Lillian while competing in the Team Challenge, so it makes it much more accessible for me. NAYC didn't fit in with my schedule and my life, but this is something that can definitely work for me."
Area VIII's Alex Baugh,19, (Lexington, Ky.) and Altorac Farm's Mr. Candyman finished second in the YTC CCI3*-S individual standings and 11th overall on a final score of 42.0. Area II's Meg Pellegrini and RF Eloquence finished third in the YTC standings and 16th overall on a final score of 45.3.
CCI2*-S Team and Individual Results
Weather delays did not stop the Area I team of Elizabeth Gill, 18, (Wellesley, Mass.) and her own Opportunity Knoxx; Libby Scruton, 18, (Elizaville, N.Y.) and her own One and Only; Ayden Schain, 17, (Bradford, Vt.) and Dawn Barclay's Fernhill Hole Shot; and Jack Curtis, 17, (Beverly, Mass.) and Betsy Curtis's Luska Candy Clover from leading the CCI2*-S team competition from start to finish. The team delivered three double-clear cross-country rounds to finish on a team score of 96.4.
The scramble team for Areas III and IV of Katarina Midgley, 18, (Franklin, Tenn.) and her own Ditch; Mya Poulos, 16, (Barrington Hills, Ill.) and her own Sir Duke; Carly Blank, 16, (Alpharetta, Ga.) and her own Connacht Dinin; and Rebecca Roth, 16, (Malone, Wisc.) and Stephanie Roth's Chapter Two took second place on a score of 134.3.
Rounding out the top three teams was the scramble team for Areas V and II of Anna Pierce, 20, (McGregor, Texas) and her own and Diane Pierce's Obiejohn; Mikayla Cutler, 19, (Annapolis, Md.) and her own Reverie; Kenna Jensen, 17, (League City, Texas) and her own Gowiene; and Vienna Allport, 14, (Rockwall, Texas) and Darren Allport's DHI Zatopek B.
Area I also swept the CCI2*-S individual standings, with Ayden Schain and Fernhill Hole Shot taking top honors, finishing on their dressage score of 30.9 to place the combination eighth in a competitive division of more than 60 horses. This was the first FEI competition and first team competition for Schain, and she said the pressure of the team environment changed the feel of the competition.
"[Fernhill Hole Shot] had some of his best work in the dressage, so I was really pleased with him. He's a really nice moving horse, so the dressage comes very naturally to him. He's like a dancing partner, and that's been fun for me to feel. The show jumping was foot perfect. He's a bigger horse at 17.2, so the jumps aren't super big for him and he's pretty scopey. On the cross-country, he's really come a long way since I've had him. It was a great confidence-boosting round for us. He's gotten really brave, and to feel that over the last year has been fun. I felt like it all came together on course," Schain said.
"Normally when I compete, I am really competitive, but I know I'm only competing for myself and against myself. But with the team, I felt like every time I went in the arena or left the start box, the pressure was on. It was a different feeling, but I really liked it knowing that the team score was on the line. I was last to go out for the team on cross-country and everyone before me had clear rounds, and I knew I had to jump clean and I had to go fast. I hadn't made time with him yet, and I made time at Stable View. Knowing the pressure was on made me really push for it."
Looking to the rest of the YTC CCI2*-S standings, Jack Curtis and Luska Candy Clover finished second on the individual leaderboard and ninth overall in the division on a final score of 31.0. Libby Scruton and One and Only rounded out the top three in the individual YTC standings and placed 16th on a final score of 34.5.
The YTC also offers a new opportunity for athletes between the FEI ages of 14-18 to participate at the CCI1* level. While no Areas brought forward teams for the CCI1*, Area III's Crockett Miller, 15, (Ellerslie, Ga.) and her own Mr. Panda added only one rail in show jumping to their dressage score of 32.6 to top the individual YTC CCI1* leaderboard and finish second overall in the division.
Barry Olliff, owner of Stable View Farm, was thrilled to add the YTC to the venue's spring FEI competition, which also hosted a CCI4*-S in addition to the other FEI levels.
"Stable View was very proud to have hosted the first Youth Team Challenge," Olliff said. "Apart from some heavy rain, which was great for cross-country, the three days went very smoothly and the competition went well. This is a great format for the future of U.S. Eventing."
Thank you to Adequan for their title sponsorship of the Adequan/USEF Eventing Youth Team Challenge, and to Attwood Equestrian Surfaces for donating a cooler to the top-placed individuals in the CCI2*-S and CCI3*-S.